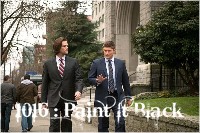 Résumé des épisodes précédents.

Worcester, Massachussetts. Un homme sort de confession. Une ombre l'observe puis lui fonce dessus. L'homme, avant de sortir de l'église, attrape un candélabre, en enlève la bougie, puis, une fois à l'extérieur de l'église, il se poignarde avec.



*****************************SUPERNATURAL***************************



Un démon vient se plaindre à Crowley du comportement de Rowena, qui passe sa frustration sur chacun des membres de la cour. Crowley la fait appeler. Rowena joue les désespérées, les blessées que son propre fils a pu choisir les Winchester plutôt que de l'aider elle à plaider sa cause auprès du Grand Coven, permettant en plus aux chasseurs d'avoir en leur possession une arme qui pourrait tous les détruire. Avant de partir dans une sortie dramatique, Rowena rappelle à Crowley que sans elle, il n'existerait pas.

Sur la route, Dean tente de motiver Sam de se concentrer sur l'affaire en cours plutôt que sur la marque. Dean a décidé de s'occuper des cas de suicides par éventration de Worcester. Malheureusement, il n'a pas encore trouvé de liens entre les victimes, ce qui pourrait suggérer une malédiction.

Deux nonnes discutent. L'une d'elle est italienne et raconte comment elle est devenue proche d'un artiste peintre nommé Piero, qui l'avait prise pour modèle. L'autre, soeur Mathias, rassure sa jeune collègue : la plupart des nonnes rejoignent le couvent parce qu'elles ont été bouleversées par un évènement dans leur vie d'avant.

Les boys se sont rendus au département de police de Worcester. Toujours pas de liens entre les trois victimes, hormis un, comme le fait remarquer Dean : ils étaient tous catholiques. Mais Sam rétorque que ce n'est pas chose rare dans l'Etat du Massachussetts. Dean élabore des hypothèses : si ce n'est pas de la sorcellerie, peut-être est-ce une possession démoniaque. Sam est sceptique mais Dean insiste pour continuer l'enquête.

Un homme, Frank, sort de confession et rejoint sa femme qui priait sur un banc. Le couple sort de l'église, suivi par une ombre fantomatique. De retour à la maison, en pleine nuit, la jeune femme surprend son mari en train de se préparer un casse-croûte nocturne. Elle lui demande de venir au lit, car il doit être épuisé depuis que son travail lui demande de travailler tard le soir. Frank acquiesce. Quand il se retourne, la jeune femme attrape une paire de ciseaux de couture, s'approche de son mari, le traite de menteur, puis le poignarde à plusieurs reprises. Après quoi, une fumée grisâtre sort du corps de la femme, qui réalise alors ce qu'elle vient de faire.

Les boys rendent visite au prêtre de la paroisse, dans l'église, après le meurtre de Frank par sa femme, Lisa. Ils savent que les victimes sont toutes venues se confesser ici et cherchent à savoir quel fut l'objet de leurs confessions, mais le prêtre refuse de rompre le secret professionnel. Il les laisse entre les mains de soeur Mathias. Sam profite de l'alchimie que Dean semble avoir avec la nonne pour faire un tour dans l'église. Soeur Mathias se montre plus coopérative et confirme à Dean que Frank trompait Lisa mais que cette dernière ne savait rien.

Sam passe l'EMF un peu partout tandis que Dean continue son interrogatoire. Il est curieux de savoir ce qui a motivé soeur Mathias à rejoindre le couvent. Elle explique que sa vie d'avant était devenue trop douloureuse, qu'elle n'avait plus d'espoir. Alors, elle a décidé de se tourner vers quelque chose de plus grand, quelque chose qui pourrait lui donner une mission à accomplir. Dean comprend. Sam revient, afin de savoir si la nonne a noté des choses étranges dans l'église, comme une présence. Soeur Mathias comprend qu'ils parlent de fantômes et se montre surprise que le FBI puisse croire en de tels phénomènes. Elle prétend que ce n'est pas son cas et repart travailler.

Les boys sortent de l'église. Après avoir fait remarquer à Sam que la nonne était belle, Dean se reconcentre sur l'affaire. Ils ont un lien entre les victimes : c'était tous des hommes qui ont trompé leurs femmes. Dans la mesure où Lisa ne savait pas qu'elle avait tué son mari, pas plus qu'elle ne savait pour l'adultère, les boys pensent à une possession par un fantôme, par exemple. Piste difficile à suivre puisque l'église a été construite sur un ancien cimetière. Dean se demande s'il ne serait pas temps pour lui de se confesser.

Crowley a un cadeau pour sa mère. Il lui ramène Olivette, la grande prêtresse du Grand Coven. Rowena se délecte d'avance de l'avoir en son pouvoir. Olivette tente de se justifier. Rowena était talentueuse, mais trop égoïste et elle est allée trop loin. De plus, avoir donné naissance à un fils est une disgrâce qu'elle ne pouvait laisser passer. Rowena fait remarquer à Olivette qu'elle se trouve dans le palace du dénommé fils, maintenant roi de l'Enfer.

Soeur Mathias retrouve Isabella dans le salon où sont entreposés des trésors. Isabella reprend son récit sur son aventure avec Pierlo. Elle en était tombée follement amoureuse et le portrait qu'il avait fait d'elle fut sa plus grande oeuvre. Nous voyons le flashback qui illustre le récit : cela se passe à Florence en Italie, en 1520.

Isabella raconte ensuite comment elle a avoué à Pierro ses sentiments pour lui. Malheureusement, le jeune homme n'exprimait pour elle que de l'amitié. Cela a détruit Isabella, qui se laissait mourir, quand son père décida de l'envoyer au couvent pour la sauver de son chagrin. Sur la table sont posés des objets appartenant à la famille d'Isabella qu'elle n'avait pas vu depuis longtemps, sauf un : un journal, le sien. Soeur Mathias est profondément touchée par l'histoire de son amie.

Rowena prend un plaisir certain à torturer Olivette. Elle est persuadée que la grandre prêtresse a toujours été jalouse de son talent, mais Olivette prétend qu'elle trouvait l'ambition démesurée de Rowena trop dangereuse. Puis, elle apprend à son ancienne disciple que le Grand Coven a été détruit par un groupe d'hommes. Ceux-ci ont tué plusieurs des membres du coven, les survivants s'étant terrés là où ils le pouvaient. Puis, leurs ennemis ont emporté leurs secrets et les ont dissimulés dans des bunkers un peu partout dans le monde. Ce groupe, ce sont les Men of Letters.

Dean se confesse. Au départ, il invente une histoire sur comment il aurait trompé sa petite amie à plusieurs reprises. Puis, la conversation devient plus sérieuse. Il admet qu'il ne veut pas mourir. Jusqu'à maintenant, son travail était tous ce qui lui importait, mais il commence à réaliser qu'il y a plus à découvrir de la vie que cela. Il voudrait pouvoir expérimenter d'autres sentiments, voir d'autres personnes, en dehors de son monde. Le prêtre avoue que prendre conscience de la grandeur de l'univers peut-être effrayant et que dans ces cas-là, croire en Dieu peut être rassurant. Dean croit en Dieu, mais il n'est pas certain que Dieu croit encore en l'humanité. Il sort du confessional, d'où le fantôme d'Isabella se manifeste. Puis, il rejoint Sam et les boys sortent de l'église, tandis que soeur Mathias les observe.

Le prêtre sort de sa session de confessions et lorsqu'il se pose devant la croix de l'autel, Isabella se précipite sur lui pour le posséder. Pendant ce temps, soeur Mathias se rend dans le salon des archives et lit le journal d'Isabella. Elle découvre alors qu'Isabella a un jour quitté le couvent dans le but de se venger de Pierro. Au départ, elle voulait simplement détruire le portrait qu'il avait fait d'elle, mais c'est alors qu'elle découvrir que Pierro était en train de faire l'amour avec une femme. Les surprenant sur le fait, elle a poignardé Pierro à plusieurs reprises, sous le regard de la compagne du jeune homme. Soeur Mathias referme le journal, choquée.

Soeur Mathias appelle les boys et les conduit dans la salle des archives, là où sont entreposés les trésors venant de grandes familles européennes, parmi lesquelles celle d'Isabella. Soeur Mathias explique qu'elle n'a jamais été gênée par la présence des fantômes qui hantent l'église et Isabelle était son amie. Elle est arrivée il y a trois semaines, lorsque les trésors de sa famille sont arrivés de Tivoli, en Italie. La nonne réalise désormais qu'il y a trois semaines que les meurtres ont commencé, mais elle n'avait jamais fait le lien jusqu'à ce qu'elle entende les boys discuter et qu'elle lise le journal d'Isabella. Après cela, Isabella a été condamnée pour sorcellerie et fut brûlée sur le bûcher. Dean ne veut pas prendre de risques et demande à Sam de tout brûler, y compris le journal. Puis, il sort avec soeur Mathias de la salle.

Rowena tente de tirer les vers du nez d'Olivette. Elle ne peut croire que la grandre prêtresse a pu laisser le Grand Coven mourir. Si Rowena avait été à sa place, elle se serait battue jusqu'au bout. Et elle pense d'ailleurs que c'est parce qu'elle allait devenir plus puissante qu'Olivette que celle-ci l'a écarté de la communauté. Olivette se défend : les bunkers étant gardés et protégés contre le surnaturel, le Grand Coven ne pouvait rien faire pour récupérer sa magie. Quand aux Men of Letters, elle n'est pas sûre que la société existe encore. Elle sait en tout cas que le clan américain a été détruit en 1958, jusqu'à ce que deux membres se découvrent : les Winchester. Rowena est exaspérée d'apprendre qu'ils sont encore impliqués. Une fois qu'elle a obtenu les informations qu'elle désirait, elle décide de se venger d'Olivette une fois pour toutess. Au départ, elle s'apprête à la tuer, puis change d'avis. Elle utilise un sortilège dont on ne voit pas encore l'effet, mais cela semble avoir terrifié Olivette.

Tandis que Sam découvre dans le journal d'Isabella que celle-ci a donné à Pierro un bout de doigt, afin qu'il utilise sa chair, son sang et ses os pour peindre, Dean et soeur Mathias sont à la recherche du fantôme. Dean découvre que le prêtre a été tué et gît sur l'autel de l'église. Soudain, il est attaqué par soeur Mathias, possédée par Isabella. Elle est sur le point de le tuer quand Sam parvient à trouver le portrait d'Isabella et le fait brûler avec le reste des affaires de famille. Isabella est éjectée du corps de soeur Mathias et s'envole dans les flammes, tandis que son portrait se consume.

Rowena a transformé Olivette en hamster et la regarde courir dans sa roue. Crowley la rejoint et lui confirme que les Winchester sont des Men of Letters. Mais il refuse de les tuer et prévient sa mère que sa relation avec les boys ne regarde que lui et que c'est à lui de gérer cela. Rowena ne cherche pas à protester.

De retour sur les routes, Dean remercie à sa façon Sam de l'avoir sauvé. Puis, Sam dit à son frère qu'il est là s'il a besoin de parler. Il a entendu ce que soeur Mathias disait à propos de la peine que l'on cache et du besoin d'avoir une mission, il sait que c'est ce que son frère fait pour lutter, il comprend cela. Mais il refuse de croire que la marque est incurable et il demande à son frère de croire qu'il y a une solution. Dean acquiesce mais n'est guère convaincant. Sam tente de le motiver, mais Dean ne se montre pas très réceptif. Ce n'est pas maintenant qu'il aura la foi.
Ecrit par deanlove35.