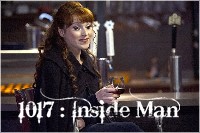 Résumé des épisodes précédents.

Sam et Castiel rendent visite à un médium qui les fait participer à une séance de spiritisme. Pendant ce temps, au Paradis, Bobby est confortablement installé dans son salon, un verre de scotch à la main, l'autre tenant l'autobiographie de Tori Spelling. La radio diffuse la chanson de Kenny Rogers intitulée The Gambler, quand une voix se fait entendre. A la grande surprise de Bobby, c'est Sam qui l'appelle à l'aide.



*****************************SUPERNATURAL***************************



24 heures plus tôt. Dans la nuit, Sam est réveillé en sursaut par l'appel désespéré de Dean. Sans hésitation, il court jusqu'à la chambre de son frère, pour le trouver endormi et troublé par un violent cauchemar. Dans son sommeil, Dean revit les meurtres et les tortures qu'il a perpétré. Puis, le cauchemar s'arrête et Dean redevient paisible. Le matin suivant, Sam fait des recherches sur son ordinateur et raccroche le téléphone mais il annonce à Dean qu'il n'a rien trouvé à chasser, hormis un kitsune dont Rudy s'occupe déjà. Ce sera donc jour de repos pour les Winchester. Sam propose à Dean d'aller voir un film, mais lorsque Dean entend ce dont quoi le film parle, il préfère refuser, laissant son petit frère y aller seul.

Au lieu de film, Sam rejoint Castiel sur le bord d'une route. Il explique à l'ange que l'état de Dean empire, et qu'ils sont à cours d'option. Castiel hésite à mettre en pratique leur dernier recours, mais il sait que Sam a raison. Aussi, ils se mettent en route.

En Enfer, Rowena se peint des symboles sur le corps à l'aide de sang. Crowley entre et détourne vite le regard lorsqu'il constate qu'elle est nue. Tandis que Rowena enfile un peignoir de soie, Crowley souhaite savoir ce qu'elle manigance. Rowena ne nie pas et prétend qu'elle fréquente un certain Trent. Elle s'apprête à donner des détails mais Crowley l'arrête avant qu'elle n'aille trop loin. Apparemment satisfait de la réponse, il sort.

Dean profite de l'absence de Sam pour mettre le foutoir dans sa chambre. Tandis qu'il s'adonne à son plan machiavélique, qui s'achève par un frottement de brosse à dents sous les aisselles, il tente de savoir auprès de Rudy si celui-ci a besoin d'aide pour son enquête. Manifestement, ce n'est pas le cas. Et si Dean prétend que tout va bien, le reflet du miroir le renvoie à son mensonge.

Arrivés aux portes du Paradis, Castiel et Sam sont confrontés au gardien qui leur annonce que Cas' n'est pas autorisé à accéder au domaine. Après quoi, la porte s'ouvre pour laisser sortir un ange qui emprunte le vaisseau du gardien. L'ange n'est autre que Hannah, qui devine la raison de la venue de Castiel. Mais elle refuse de laisser sortir Metatron, en sachant que celui-ci ne leur accordera son aide que s'il est libre. Elle ne peut pas prendre ce risque. Hannah s'excuse, mais Castiel est en colère. Soudain, trois autres anges sortent des fourrés à proximité. Sam emmène Castiel, et lui apprend qu'ils doivent changer de plan. Ils ne peuvent pas affronter quatre anges à eux deux et faire sortir Metatron de cette façon. A la place, ils vont le faire évader.

Rowena met l'un des sbires de Crowley à contribution, afin de retrouver l'endroit où se trouve le bunker des Men of Letters. Malheureusement, lorsque le démon tente de retracer un appel provenant de l'endroit, il fait face à des interférences qui l'empêche d'être précis. Il propose à Rowena une localisation moins précise proche de l'endroit. Elle accepte.

Dans un bar de Lebanon, Dean retrouve le barman, Donny. Visiblement habitué de l'endroit, il commande son repas et sa boisson habituelle. Au billard, un groupe d'étudiants joue bruyamment. Dean décide de jouer à son tour. Il prend sa bière, fait semblant d'être saoul, et propose aux jeunes de prendre les paris. Ils acceptent.

Sam et Castiel rendent visite à Oliver Price, un medium télépathe que les Men of Letters ont aidé dans le contrôle de son pouvoir. Oliver Price leur ouvre la porte et sait immédiatement qui est Sam Winchester. En revanche, il se heurte à un mur lorsqu'il s'agit de pénétrer l'esprit de Castiel, et voit sa croyance d'athéiste tomber en morceau lorsqu'il découvre qu'il est face à un ange. Après quoi, Sam et Cas' leur explique qu'ils ont besoin de joindre quelqu'un au Paradis, afin que celui-ci les aide à faire sortir un prisonnier des prisons du Paradis. D'abord sur le point de refuser, Oliver Price change vite d'avis lorsqu'il lit les pensées de Sam.

Au bar de Lebanon, Dean fait en sorte de perdre sa partie, afin de faire monter les enchères. Il réussit à extorquer près de 300 dollars au groupe d'étudiants, ainsi que la montre de luxe de l'un d'entre eux. La nouvelle partie commence.

Pendant ce temps, la séance de spiritisme commence. Afin de prendre contact avec le défunt, le médium demande à ce qu'un objet lui ayant appartenu soit posé sur la table. Sam sort la casquette de Bobby. Le contact s'établie. Nous revoyons le moment où Bobby entend la voix de Sam à travers la radio.

Dean écrase littéralement ses concurrents au billard. Ils comprennent qu'ils se sont fait avoir, mais il est trop tard. Dean empoche le pactole et part se rafraichir dans les toilettes. Pendant ce temps, Rowena rencontre les étudiants. Dans les toilettes, lorsque Dean se relève, il aperçoit furtivement ses yeux devenir noirs. Il s'essuie le visage, en se demandant si ce n'était qu'une illusion, ou pas.

Sam vient de raconter à Bobby ce qu'il s'est passé. Bobby comprend qu'ils doivent trouver un moyen d'enlever la marque du bras de Dean, afin que celui-ci ne redevienne pas un démon. Sam avoue que Dean n'est pas avec eux et qu'il ne sait rien de ce qu'ils font. Après quoi, Castiel explique quel est le plan : Bobby doit sortir de son Paradis pour trouver et ouvrir les portes du domaine donnant sur Terre. Après quoi, l'ange le rejoindra afin qu'ils aillent tous les deux libérer le scribe de Dieu de sa cellule. Castiel prévient Bobby ; les anges ne vont pas aimer qu'une âme se balade librement et ils iront à sa recherche. Bobby se sent rouillé, malgré les encouragements de Sam, mais il accepte.

Dean sort des toilettes pour tomber sur Rowena. Tandis qu'il se bat contre les étudiants qu'elle a ensorcelé, il s'arrête avant de tuer leur leader, en repensant au mal perpétré auparavant. Pendant ce temps, Rowena enlève sa cape et s'apprête à lancer son sort sur Dean, mais ce sort ne fonctionne pas. Ce qui permet à Dean de prendre le dessus. Il apprend alors que Rowena est la mère de Crowley, et que celle-ci cherchait à tuer Dean à cause de l'influence qu'il a sur le roi de l'Enfer. Puis, elle lui assure qu'il ne va pas la tuer, car elle est la seule à pouvoir libérer les étudiants du sort jeté avant que celui-ci ne les tue. Elle sait que Dean est un héros et qu'il ne souhaite pas la mort d'innocents.

Castiel guide Bobby : pour pouvoir sortir de son Paradis, il doit trouver quelque chose qui ne devrait pas être là. Il découvre un fil qui sort du tapis et tire dessus, ce qui ouvre la Porte. Il pénètre dans un couloir d'un blanc froid et immaculé. Plusieurs portes longent le couloir, toutes appartenant à des Bobby. Soudain, une alarme se déclenche.

Furieuse, Rowena repart en Enfer. Elle s'auto-mutile et part voir Crowley, en prétendant que c'est Dean Winchester qui lui a fait cela. Crowley lu dit qu'elle est stupide d'avoir essayé de le tuer et qu'elle n'a eu que ce qu'elle méritait. De plus, il lui apprend que Dean est protégé par la marque de Cain. Rowena rétorque que la marque n'est qu'un sortilège et que, comme tout sortilège, il peut être défait. Quant à Dean, elle prétend qu'elle essayait simplement de protéger Crowley. Crowley prétend lui, qu'il a exactement Sam et Dean là où il veut qu'ils soient. Rowena commence à perdre son sang-froid et prévient Crowley : si il ne fait rien, il passera pour un faible.

Tandis que Castiel et Sam attendent, dissimulés derrière un buisson près des portes du Paradis, Bobby crée une véritable pagaille en haut, en faisant sortir tous les Bobbys de leur antichambre. Tandis que les âmes se révoltent contre les anges, Bobby en profite pour se faufiler.

Dans le même temps, Crowley rencontre Dean dans le bar.

Bobby trouve la porte 42 et l'ouvre. Sam se précipite sur l'ange chargé de surveiller la porte, tandis que Castiel saute à travers le portail. Suivi par Bobby, ils partent en direction des prisons. Bobby souhaite savoir ce qu'il en est de Dean. Castiel lui explique qu'il ne sait rien de ce qu'ils font, parce qu'il a abandonné. Ce qui n'est pas le cas de Sam et Cas'.

Crowley et Dean conversent autour d'un verre. Dean assure à Crowley que s'il avait envie de tuer Rowena, il ne l'a pas touché d'un cheveu. Crowley, à son tour, lui parle de ce que Rowena a dit sur la marque. Mais pas de miracles, elle ne sait pas comment l'enlever. Puis, le roi de l'Enfer se confie : Rowena prétend qu'il est devenu trop doux. Dean confirme. Le simple fait qu'ils conversent au lieu de se battre le prouve. Mais lui aussi a changé, le fait qu'il accepte de converser en est la preuve. Crowley résume en disant qu'ils sont devenus vieux. Puis, Dean lui demande pourquoi il laisse Rowena avoir tant de contrôle sur les affaires de l'Enfer. Crowley répond qu'elle est sa famille, son sang. Dean rétorque que ce n'est pas la même chose : la famille ne se résume pas au sang. La famille est là dans les plus durs comme dans les meilleurs moments. Elle ne reste pas auprès de vous par intérêt, elle reste pour vous, elle assure vos arrières. Ce n'est pas la description qui correspondrait à Rowena. Crowley semble le réaliser.

Bobby et Castiel se retrouvent devant la cellule de Metatron. Ce dernier refuse de venir avec eux, de peur que Dean ne le prenne encore pour son punching-ball personnel. Castiel le rassure, Dean n'est pas impliqué. Aussi, Metatron, intrigué par la situation, indique à Castiel où sont les clés. Castiel confirme à Bobby que malheureusement, Metatron est leur seule option.

Castiel rejoint Sam sur Terre avec Metatron. Ce dernier fait le fanfaron, il croit avoir les cartes en main pour prendre les rênes, mais il ne s'attend pas à la suite : Castiel lui vole sa grâce et Sam lui tire dans la cuisse. Metatron est mortel, et ce sont Sam et Castiel qui ont le pouvoir désormais. Metatron avoue qu'il ne sait rien sur la marque, qu'il a tout inventé sur la rivière finissant à la source. La marque est issue d'une magie de niveau divin, seul Dieu, ou Lucifer, savent vraiment comment s'en débarrasser. Cette révélation rend Metatron inutile, alors Castiel demande à Sam de le tuer. Sam s'apprête à tirer quand Metatron assure qu'en revanche, il peut toujours redonner la grâce de Castiel. Sam laisse la décision à son ami.

Crowley retrouve Rowena en Enfer. Celle-ci déchante lorsque son fils la vire de son domaine. C'est sa façon de reprendre son rang de roi, en décidant de se débarrasser de l'influence d'une mère qui ne l'a jamais aimé, jusqu'à ce qu'il obtienne le pouvoir. Rowena joue les mères éplorées, mais Crowley ne se laisse pas attendrire. Rowena lui promet que son monde brûlera.

Sam rentre au bunker. Il échange rapidement avec Dean qui mange des céréales, puis part dans sa chambre. Là, il lit la lettre de Bobby que Castiel lui a remis avant de partir de son côté avec Metatron. La lettre de Bobby demande à Sam de continuer le combat, mais de ne pas le cacher à Dean. Il lui rappelle que les meilleures intentions ont parfois des conséquences inattendues. Puis, il le félicite, lui dit combien c'est un homme bien et qu'il est fier de lui. Il sait que Sam fera le bon choix. Il lui avoue également qu'il n'a jamais été aussi heureux, depuis qu'il est au Paradis, que lorsqu'il a entendu sa voix. En parallèle, nous voyons Dean, Rowena quittant l'Enfer, Castiel prenant la route avec Metatron, Crowley sur son trône, puis Bobby, que les anges sont venus chercher. La scène et l'épisode s'arrêtent sur Sam, très ému par la lettre.
Ecrit par deanlove35.