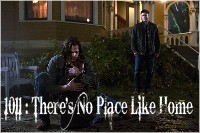 Résumé des épisodes précédents.

Un homme est agressé dans sa propre maison. Il s'enfuit, les mains liées, et alors qu'il se trouve dans le jardin, il trébuche sur un tuyau d'arrosage. Il se relève, et tombe nez-à-nez avec son agresseur. Celle-ci sort de l'ombre. C'est Charlie Bradbury. L'homme la supplie et lui assure qu'il ne sait rien d'autre, mais Charlie n'en a cure, et est bien décidée à le torturer.



*****************************SUPERNATURAL***************************



Sam est au téléphone avec Castiel. Il raccroche alors que son frère le rejoint, deux assiettes contenant des blancs d'oeufs cuisinés à la main. Sam est surpris, non seulement par le repas proposé, mais aussi par le fait que Dean a fait la grasse matinée. Dean explique qu'il tente un rythme de vie plus sain, afin de tenter de garder le contrôle sur la marque, du moins le temps de s'en débarrasser. Donc, plus d'alcool, et plus de malbouffe, ainsi qu'un rythme du sommeil normal. Puis, il demande à Sam s'il a trouvé quelque chose, mais le cadet n'a rien.

Les recherches reprennent, sans trop de succès. Finalement, Sam tombe sur quelque chose d'intéressant, mais qui ne concerne pas la marque. En effet, après avoir fouillé les actualités afin de trouver des signes d'activité surnaturelle, il est tombé sur un article concernant l'agression d'un procureur. Une vidéo de l'agression en question existe, et lorsque Sam et Dean la regardent, ils constatent que c'est Charlie qui a attaqué la victime. D'abord surpris par son retour d'Oz sans nouvelles, Dean décide de ne pas mettre la charrue avant les boeufs. Il imagine que Charlie devait chasser de son côté, car il ne pense pas qu'elle puisse attaquer un homme gratuitement. Sam se montre un peu plus sceptique, mais accepte de rencontrer le procureur, afin d'en savoir plus. Dean monte dans sa chambre afin de prendre quelques affaires. Quand il saisit un poignard, sa main commence à trembler. Il reprend vite le contrôle quand Sam entre pour lui dire qu'il est temps de partir.

Le procureur explique aux boys que Charlie voulait en savoir plus sur l'affaire de l'accident ayant tué ses parents. Il dit que l'affaire a été classée, et qu'il n'y a pas eu de procès parce que ce n'était pas nécessaire. Il leur tend un dossier concernant Charlie, puis les boys lui demandent quel nom il lui a donné. Le procureur fait semblant de ne pas comprendre, quand les Winchester expliquent qu'une secrétaire a été agressée, et c'est comme ça que Charlie a obtenu le nom du procureur. L'homme refuse de parler, aussi Dean devient menaçant. Au final, le procureur accepte d'avouer qu'il a délivré le nom de l'épouse du tueur.

Sur la route, Sam jette un oeil au dossier de Charlie, et découvre que son vrai nom est Céleste Middleton. Sam pense qu'elle court après le responsable de la mort de ses parents, ce que Dean ne peut que trop comprendre. Ils décident de la retrouver avant qu'elle ne fasse quelque chose qu'elle regrettera toute sa vie.

Les boys arrivent chez la fameuse Barbara. Lorsqu'ils lui parlent de l'affaire Middleton, elle fait semblant de ne pas savoir de quoi ils parlent. Tandis que les boys repèrent les bagages dans l'entrée, elles les invite à prendre rendez-vous auprès de son assistante, avant de leur fermer la porte au nez. Les boys reconnaissent d'évidents signes de culpabilité.

Les boys surveillent la maison de Barbara depuis l'Impala. Sam constate que Charlie était une enfant perturbée, ce que Dean trouve normal. Il persiste à penser qu'il existe une bonne explication pour ces évènements étranges. Soudain, ils entendent des bruits de lutte provenant de la maison. Ils y courent, et trouve Barbara, une dague sur le cou, tenue par Charlie. Les boys tentent d'abord de la convaincre de lâcher le poignard, et de discuter de tout ça, mais elle ne veut rien entendre. Son regard est sombre, et elle dit que son aventure dans le monde d'Oz lui a apporté tout ce qu'elle désirait. Elle ne semble pas prise du moindre remord et au contraire, elle semble amusée par la situation. Tandis que les boys rangent leurs armes tout en tentant de négocier à nouveau, elle en profite pour leur jeter Barbara dans leurs bras, et s'enfuir. Dean la rattrape, mais elle prend le dessus, lui envoie un bon coup de pied au visage, sort et saute dans son van, non sans avoir d'abord crevé les pneus de l'Impala. Soudain, une voiture jaune débarque. Au volant se trouve Charlie, la vraie Charlie, enjouée et solaire. Sam sort à son tour pour la trouver là. En voyant les têtes d'ahuris qu'ils arborent, Charlie décide qu'il est temps de leur donner quelques explications.

Good!Charlie et les boys se retrouvent dans un bar restaurant, afin de parler de tout cela. Charlie explique qu'elle a combattu dans une guerre dans le monde d'Oz, mais alors qu'ils perdaient la guerre face aux forces du mal, elle a décide de conclure un pacte avec le magicien d'Oz. Ce dernier, en utilisant la clé ouvrant le monde d'Oz, a libéré la part d'ombre de Charlie, lui donnant sa vie propre. Dark!Charlie leur a ainsi permis de gagner la guerre, mais en commettant des actes horribles. Ensuite, elle a essayé de convaincre Good!Charlie qu'ils étaient la même personne, et afin de se rapprocher d'elle, elle est revenue dans le monde réel, pour traquer le responsable de la mort de ses parents. Les boys sont d'accord sur le fait que les deux faces de la pièce Charlie doivent être réunies, mais malheureusement, Dark!Charlie a brisé la clé d'Oz en deux, rendant impossible le passage de l'autre côté. Ils décident cependant d'entreprendre de retrouver Dark!Charlie. Elle a demandé à Barbara des comptes-rendus bancaires de paiements à l'intention du procureur. Les boys décident de commencer par là, pensant que ces rendus bancaires leur permettront de retrouver la trace du tueur, et donc de Dark!Charlie. Tandis que Dean retourne au bar afin de commander de nouvelles boissons, Sam et Good!Charlie décident de traquer les informations sur ordinateur. Au bar, Dean fait face à son reflet dans le miroir. Sa main se met à trembler. Il ferme le poing pour se contrôler.

Les informations que Sam trouve conduisent toutes à un homme, nommé Russell Wellington. La semaine durant laquelle l'accident a eu lieu, Russell a déclaré que sa voiture avait été volée. Après quoi, il a pris quelques semaines de congés, revenant au travail avec des bleus et une cheville fracturée. La voiture elle, n'a jamais été retrouvée. En voyant la photo, Charlie est persuadée qu'il s'agit de l'homme responsable de l'accident qui a tué ses parents. Dean pense qu'elle ne devrait pas se retrouver face à cet homme, de même que Sam pense qu'enferme Dark!Charlie à double tour dans un donjon est la solution. Good!Charlie accepte, et demande à se rendre au bunker, en espérant y trouver quelque chose qui permettra de réparer la clé menant à Oz. Dean demande à Sam de l'accompagner, tandis que de son côté, il décide de rendre visite à Russell, et d'attendre que Dark!Charlie débarque. Une fois parti, Good!Charlie demande à Sam si Dean va bien. Sam lui promet de lui expliquer sur la route.

Dean attend que Russell se pointe, devant son agence immobilière. Russell finit par arriver, aussi Dean pénètre dans le bâtiment signe le registre, et s'asseoit dans la salle d'attente. Pendant ce temps, au bunker, Sam trouve un dossier sur un homme nommé Clive Dylan, qui fut celui qui a découvert la clé d'Oz. Clive a pénétré dans le monde d'Oz en laissant la clé derrière lui. Après quoi, Baum, l'auteur du magicien d'Oz, a trouvé la clé et est allé secourir Clive. Une fois Clive revenu sur Terre, il a pris sa retraite et a quitté les Men of Letters. Good!Charlie et Sam décident de retrouver sa trace.

Dean est guidé par la secrétaire dans le bureau de Russell. Il s'installe, et entreprend de décrire la maison de ses rêves. Dans le même temps, Charlie et Sam trouvent la nouvelle identité de Clive, et l'adresse à laquelle il habite. Sam est surpris, si Clive est encore en vie, il devrait être âgé de plus de cent ans. Charlie explique que le temps s'écoule différemment dans le monde d'Oz. Sam et Charlie décident d'aller lui rendre visite.

Dean termine sa description. Russell décide de le virer de son bureau, aussi Dean change de tactique et joue franc-jeu. Il lui rappelle les faits : l'accident causé par un conducteur ivre ayant causé la mort de deux parents partant chercher leur fille à une soirée pyjama. Russell prétend ne pas comprendre, mais Dean ne lâche pas le morceau. Soudain, les lumières s'éteignent. Dean conseille à Russell de rester dans son bureau, tandis qu'il va jeter un oeil. Russell attrape le téléphone, mais la ligne a été coupée.

Dean confronte Dark!Charlie. A sa grande surprise, elle prétend qu'elle n'est pas là pour tuer Russell, qu'il ne s'agit pas de vengeance. Elle souhaite au contraire lui parler, et lui montrer son visage, afin qu'il se rende compte de ce qu'il lui a fait. Pour prouver sa bonne foi, elle tend son poignard à Dean. Il le prend, et accepte de la laisser passer. Dark!Charlie se retrouve face à Russell, qui se confond en excuses. Dean, resté dans le couloir, observe attentivement la scène. Tout se passe bien, Dark!Charlie semble même pardonner à Russell. Quand soudain, elle ferme la porte à clé, et poignarde Russell dans le coeur. Dean n'a pas le temps d'intervenir, et quand enfin il pénètre dans le bureau, il est trop tard. Russell est mort, et Charlie s'est enfuie.

Dean téléphone à Sam et à Good!Charlie pour leur apprendre la mauvaise nouvelle. Charlie est bouleversée, mais ne blâme pas Dean le moins du monde. Sam explique alors à Dean ce qu'ils ont trouvé sur le premier Men of Letters ayant trouvé la clé d'Oz, et il décide de lui envoyer l'adresse. Dean promet de les rejoindre.

Tandis que Dean se trouve indécis face à un verre de whisky, il est rejoint par Dark!Charlie, qui tente de le convaincre qu'être mauvais est libérateur. De leur côté, Sam et Good!Charlie font face à Clive Dylan, qui prétend qu'il ne sait rien des Men of Letters, et que le monde d'Oz n'est qu'un conte pour enfant. Mais Charlie reconnait la cicatrice qu'il porte sur la joue gauche, et pour le convaincre, lui montre la moitié de la clé d'Oz.

Dean apprend à Dark!Charlie qu'elle ne va pas fanfaronner longtemps. Il lui explique tout sur ce que Sam et Good!Charlie comptent faire, et lui indique même le nom d'une ville. Dark!Charlie n'est pas impressionnée, et décide au contraire d'aller s'amuser avec la barmaid. Mais alors que Dean s'apprête à céder à l'appel de l'alcool, la barmaid revient, sans Dark!Charlie. La barmaid lui apprend qu'elle est partie. Dean entend alors le bruit d'un moteur, celui de l'Impala. Il sort en trombe, mais trop tard. Il appelle Sam pour lui dire que Dark!Charlie a volé l'Impala, mais qu'elle se rend dans la mauvaise ville, ce qui leur permettra de gagner un peu de temps. Il annonce à son frère qu'il arrive, dès qu'il aura récupéré une voiture. Il en trouve une, et s'en va.

Clive explique qu'il existe six clés menant à Oz. Mais ces clés ne peuvent être réparées que dans le monde d'Oz. il n'y a donc aucun moyen d'y retourner. Sam demande à Clive ce qui lui est arrivé. Clive hésite d'abord, puis finalement explique que ce qui arrive à Charlie lui est aussi arrivé. Dans le monde d'Oz, il a été kidnappé par un coven de sorcières, qui ont utilisé la clé sur lui, libérant son côté sombre. Mais Dark!Clive a tué toutes les sorcières et a pris le pouvoir, devenant le magicien d'Oz. Charlie est soudainement inquiète pour Dorothy, qui se trouve aux côtés du magicien. Clive dit qu'il y a un moyen de l'invoquer dans le monde réel. Si Good!Clive est mortellement blessé, le magicien n'aura pas d'autres choix que de venir pour les sauver tous les deux. Clive sort une arme, et décide qu'il est temps de payer pour ses péchés.

Dean arrive et entend un coup de feu provenant de la maison. Il s'apprête à se précipiter, quand il voit l'Impala arriver et Dark!Charlie en sortir. Dean la prévient, il ne la laissera pas passer, à aucun prix, et est prêt à se battre contre elle s'il le faut. Cette perspective semble enchanter Dark!Charlie.

Good!Charlie se met au chevet de Clive, qui est en train de mourir, quand le magicien apparait. Sam prend son arme, mais le magicien lui lie les mains et les pieds. Sam le supplie de le laisser aider son amie, mais le magicien ne l'entend pas de cette oreille. Good!Charlie sursaute alors, et sa lèvre se met à saigner. En effet, à l'extérieur, Dean se bat contre Dark!Charlie, et chaque coup qu'elle ressent, l'autre le ressent aussi. Dean finit même par lui casser un bras. Good!Charlie décide de prendre une décision radicale. Elle s'excuse auprès de Clive, qui lui pardonne, et elle tire. Tuant Clive et son double.

Dean ne cherche plus à se contrôler. Les coups pleuvent sur Dark!Charlie, quand finalement, Dean stoppe lorsqu'il voit Sam arriver avec Good!Charlie grièvement blessée dans les bras. Sam dépose Good!Charlie auprès de son double, et lui donne la clé, qu'elle a pu réparer en tuant le magicien. Les deux faces de la même pièce sont alors réunies grâce à la magie d'Oz. Une fois fait, Sam se précipite auprès de Charlie pour la prendre dans ses bras. La jeune femme pleure, traumatisée par les évènements. Dean, tout aussi traumatisé, regarde son poing bien âbimé et réalise ce qui vient de se produire.

Deux jours plus tard, au bunker. Sam donne des nouvelles de Dean à Castiel, puis rappelle à l'ange qu'il est urgent qu'ils trouvent une solution pour la marque. Il raccroche, Charlie débarque, ses affaires à la main. Après deux jours de repos, elle décide d'avancer et de reprendre sa vie en main. Sam lui parle d'un livre appelé The Book of the Damned, qui se trouve dans une bibliothèque dans une ville proche. Charlie décide d'entreprendre les recherches. Elle apprend à Sam qu'elle ne peut de toutes façons plus retourner dans le monde d'Oz, et que le magicien mort, Dorothy n'a plus rien à craindre. De plus, elle tient à aider Dean. Elle s'apprête à dire aurevoir aux boys, s'approche de Dean, et lui dit qu'elle lui pardonne, et qu'il devrait se pardonner à lui-même. De plus, peut-être que cela a pris des siècles à Cain pour contrôler la marque, mais Dean est un Winchester, il y parviendra. Dean prend Charlie dans ses bras, lui dit qu'il est désolé, ce à quoi elle demande qu'il le prouve. Elle s'en va en promettant de les appeler si elle trouve quelque chose. Une fois seuls, Sam approuve les dires de Charlie, et fait comprendre à son frère qu'il n'est pas seul dans son combat. Dean dit alors qu'il est temps de se remettre au travail. Sam repart dans ses recherches. Dean jette un oeil à son poing, l'inquiétude se lit dans ses yeux.
Ecrit par deanlove35.