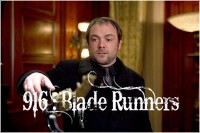 Résumé des épisodes précédents.

Tandis que Sam fait des recherches sur l'histoire de Cain et Abel, Dean tente désespérément de contacter Crowley. Celui-ci ne répondant pas à ses appels, Dean s'agace. Puis, il fait écouter à Sam un message que le démon lui a laissé. Sam constate, amusé, que Crowley était manifestement saoul. Dean, de plus en plus sur les nerfs, retente une connexion.

Pendant ce temps, Crowley s'offre du plaisir avec une dénommée Lola. Celle-ci sort du lit, prélève du sang dans une seringue sur un homme enfermé dans le placard, puis la donne à Crowley qui s'injecte le précieux liquide dans les veines. Le roi charge ensuite Lola de lui trouver un nouveau distributeur d'hémoglobine, et de la nourriture. Lola s'exécute, et revient, plus tard, avec des pizzas. Elle regarde non sans un sourire malicieux que le roi regarde la télévision en pleurant.



*****************************SUPERNATURAL***************************



Lola rencontre un sbire d'Abaddon. Elle lui explique que le roi de l'Enfer n'est pas dans son meilleur état et qu'il est complètement dépendant d'elle. Elle mentionne également les nombreux messages vocaux laissés par les Winchester, dont l'un mentionne la Première Arme. Le sbire lui demande de continuer ses investigations, et elle répond qu'elle le fera, mais qu'elle espère que la prochaine fois, elle pourra faire son rapport directement à Abaddon.

Sam et Dean invoquent un démon des carrefours, au milieu d'un piège à démons gigantestque. A leur grande surprise, c'est Snooki qui apparait devant eux. Cédant à leurs menaces, elle leur révèle que Crowley se trouvait au milieu du Pacifique Ouest, la dernière fois qu'elle a entendu parler de lui. Elle explique également que l'Enfer est plongé dans le chaos, et que certains loyaux de Crowley songent à rejoindre le camp d'Abaddon. Une fois ces révélations faites, Snooki pense partir, mais les boys en ont décidé autrement. Sam entame la récitation d'un exorcisme.

Lola retrouve Crowley et lui amène des sacs de sang. Mais Crowley a appris qu'elle donnait des informations à Abaddon, et il compte s'occuper d'elle. Lola supplie d'abord, puis se moque du roi déchu. Crowley, sans plus de cérémonie, la tue. Puis, il prend sa dose, et regarde autour de lui. Le sol est jonché de cadavres, et lorsqu'il fait face à son reflet dans la glace, il préfère fermer les yeux.

Au bunker, Sam a trouvé l'endroit où la Lame pourrait se trouver, d'après les informations que Cain a donné. Il suggère à Dean que Crowley aurait pu les doubler, mais Dean lui rappelle que c'est Crowley lui-même qui a provoqué la rencontre avec Cain, dans le seul but de se débarrasser d'Abaddon. Sam accepte cette explication, mais veut s'assurer qu'une fois qu'ils auront la Lame, ils ne s'occuperont pas seulement d'Abaddon, mais aussi de Crowley. Dean acquiesce. Soudain, il reçoit un coup de téléphone de Crowley. Ce dernier lui demande son aide. Les boys se mettent immédiatement en route.

Lorsque Crowley entre dans sa suite, il y trouve Dean et Sam, qui l'attendaient. Sam lui arrache le sac qu'il tient en main, et découvre un sac de sang. Immédiatement, les boys le menottent à une chaise, dans le but de le raisonner et lui rappeler sa mission. Crowley leur explique que son addiction le rend dépendant, et qu'il l'était de Lola. Puis, il avoue que cette dernière était une espionne d'Abaddon, et au grand dam des boys, il ne se rappelle pas s'il a déjà mentionné la Lame devant elle. Les boys assument qu'Abaddon est au courant et qu'elle va se mettre à la recherche de l'arme Aussitôt, ils prennent une décision radicale concernant Crowley.

Enfermé dans le donjon du bunker, Crowley doit répondre aux questions de Sam concernant la Lame. Le démon explique que lorsqu'il a fouillé la faille de Mariana dans le Pacifique Ouest, l'arme ne s'y trouvait déjà plus. En effet, elle a été repêchée, et est passée entre de nombreuses mains, y compris entre celles de pirates américains. Puis Crowley tente d'amadouer Sam en lui rappelant le moment qu'ils ont partagé dans l'église, mais Sam ne se laisse pas berner. Il fait comprendre à Crowley qu'il leur est seulement utile dans leur combat contre Abaddon, et que ça s'arrête là. Puis, il lui demande de se reconcentrer et de lui indiquer ce qu'il s'est passé après que les pirates ont mis la main sur la Lame.

Les boys s'apprêtent à rencontrer un négociant qui aurait eu la Lame entre les mains après les pirates. Pendant ce temps, Crowley tente de voler des friandises dans un distributeur. Dean le rappelle à l'ordre. Quelques secondes s'écoulent, puis enfin, le négociant arrive, mais il n'est pas particulièrement coopératif. Aussi Crowley quitte son vaisseau pour s'introduire dans le corps du négociant, et le quitte de nouveau pour son propre corps. Les boys libèrent le négociant, qui s'en va, et Crowley leur donne le nom de l'endroit qui a récupéré la Lame : L'institut national d'antiquités de Kansas City.

Justement, à l'institut, deux démons viennent posséder les gardiens jouant aux cartes. L'un d'eux pénètre ensuite dans le coffre numéro un, tandis que l'autre tue la jeune employée venue leur apporter des provisions.

Le lendemain, les boys parlent à l'inspecteur qui leur montre une vidéo de la caméra de surveillance ayant filmé la scène de la tuerie. On y voit les deux gardiens se tirant dessus, puis tirer sur la caméra. De plus, si le coffre ouvert est celui où les raretés sont gardées avant examen, ce dernier était vide lorsque l'un des gardiens y est entré. Sam et Dean refont le déroulé des évènements, et il ne fait aucun doute que les deux démons étant venus ici sont des sbires d'Abaddon. Le temps presse.

Les boys parlent au Docteur McEllroy, une femme d'âge mûre qui ne semble pas insensible aux charmes de Dean. Néanmoins, elle avoue que la Lame se trouvait bien dans le coffre numéro un, mais n'ayant pu authentifier sa provenance, elle l'a enlevé du coffre et l'a vendu à un acheteur qui a tenu à garder son anonymat. Elle leur concède toutefois le nom de Magnus, remet sa carte à Dean, puis s'en va. Sam fait rappeler à Dean que Magnus est le pseudo utilisé par les Men of Letters lorsque ceux-ci veulent passer incognito. S'ils croyaient que tous les Men of Letters étaient morts, ce n'est peut-être finalement pas le cas.

Les boys rendent visite à Crowley, et veulent savoir ce qu'il sait sur les Men of Letters et ceux qui pourraient être encore en vie. Mais Crowley refuse de coopérer s'il n'obtient pas quelque chose en retour, étant donné que les boys lui sont redevables. Finalement, les boys cèdent.

Installé dans un fauteuil, avec magazines porno et verres de scotch, Crowley laisse les boys fouiller les archives des membres actifs des Men of Letters, avant de leur signaler l'existence de certains membres qui ont été renvoyés de leur communauté. Dean trouve la boîte contenant les dossiers de ces membres, et après que son frère et lui en ont parcouru quelques-uns, il tombe sur celui d'un dénommé Cuthbert Sinclair. Ce dernier a été nommé Maître des Sortilèges, et est à l'origine de ceux protégeant le bunker. Mais ses travaux sont devenus un peu trop limites pour les Men of Letters, qui ont fini par le renvoyer définitivement en 1956, soit deux ans avant le massacre de la société secrète. Crowley leur explique qu'il n'a jamais su son nom, mais qu'il connaissait l'existence de ce Sinclair et a tenté de le trouver afin de percer les secrets du bunker. Il accepte d'emmener les boys au dernier endroit où il a cherché.

Crowley les emmène au milieu d'une clairière, expliquant que le démon qu'il avait envoyé à la recherche de Sinclair n'avait jamais pu le trouver. L'homme doit être protégé par de nombreux sortilèges. Les boys décident de tenter de lui parler, pensant qu'il les observe peut-être. C'est Sam qui prend d'abord la parole, indiquant qu'ils sont les petits-fils de Henry Winchester, et des Men of Letters, et qu'ils sont là pour entendre sa version de l'histoire, après son départ de la société en 1956. Après quelques secondes d'attente, sur l'indication de Crowley, les boys voient une porte apparaitre. Ils la passent, et se retrouvent au milieu d'un couloir, dans un grand manoir. Ils avancent, puis se font attaquer par deux vampires, mais s'en débarrassent rapidement. Une voix les félicite.

Les boys rencontrent enfin Sinclair, qui leur explique qu'il voulait simplement les tester, dans le couloir. Les boys apprennent que Sinclair était le mentor d'Henry, que ce dernier est venu le visiter régulièrement après son renvoi des Men of Letters, que son manoir est invisible et que celui-ci contient la plus grande collection de raretés et de créatures surnaturelles au monde. Il se montre impressionné que les Men of Letters ont été récupérés par deux chasseurs. Puis les boys lui expliquent ce qu'ils veulent, et ce qu'Abaddon compte faire. Pour lui prouver leur bonne foi, Dean lui montre la marque de Cain qu'il arbore sur le bras. Sinclair se montre vivement intéressé, et leur indique que la Lame se trouve derrière eux. Les boys la voient trônant sur un support, et redemandent à Sinclair de confirmer son soutien. Les évènements prennent une autre tournure quand Sinclair récite une formule en soufflant une poudre turquoise sur Sam, qui disparait.

Sam s'est vu projeté à l'extérieur. Il rejoint Crowley, et lui annonce que Sinclair détient Dean. Ce dernier tente de ramener Sinclair à la raison, mais Sinclair souhaite ajouter Dean à sa collection. Il avait la Lame, maintenant, il a la marque. Il tente de convaincre Dean qu'il pourrait devenir son élève, apprendre tous ce que Sinclair sait et vivre jeune pour toujours. Dean ne l'entend pas de cette oreille, sort sa machette, mais Sinclair, utilisant un sort, la rend brûlante au point que Dean soit obligé de la lâcher. De plus, il a subtilisé le revolver du chasseur.

Sam se met à fouiller les archives des Men of Letters qu'ils ont emmené avec eux. Crowley tente de jouer sur les sentiments, puis, après s'être fait envoyer paître par Sam, lui rappelle que c'est grâce à lui que Dean a la marque de Cain, et que Gadreel a quitté le corps de Sam, aussi n'est-il pas aussi inutile que Sam le prétend, et il pourrait bien avoir besoin de lui pour aller sauver Dean. Sam, agacé, lui demande de se taire.

Dean, enchainé à une colonne, fait face à Sinclair qui souhaite lui donner la Lame. Mais Dean refusant de la saisir, Sinclair la met dans sa main. Soudain, la marque s'illumine, et le pouvoir émanant de l'objet possède Dean. La sensation est si brutale que Dean finit par lâcher la Lame. Sinclair, enchanté par ce qu'il vient de voir, lui dit que ça deviendra plus facile, et plus agréable, avec le temps.

Sam trouve des informations intéressantes : Sinclair avait l'intention de rendre le bunker aussi invisible que son manoir, les entrées étant enclenchées par un sortilège. La procédure à suivre est même indiquée. Pour trouver les ingrédients, Sam décide de mettre la présence de Crowley à profit.

Sinclair tente de convaincre Dean sur les possibilités qui leurs sont offertes à eux deux, tout le pouvoir qu'ils pourraient acquérir. Dean refuse de coopérer, mais Sinclair rétorque qu'il n'a pas besoin de lui demander son avis. En posant sa main sur le front du chasseur, Sinclair récite une formule, et explique que ce sort est utile pour drainer toute volonté du corps et de l'esprit. En utilisant ce sort régulièrement, Dean deviendra la marionnette de Sinclair.

Tandis que Sam met en place le sortilège pour pénétrer dans le manoir de Sinclair, Crowley tente d'acquérir l'attention du chasseur. Une fois la porte révélée, Sam rappelle au démon de rester près de lui. Une fois dans le manoir, ils s'avancent, puis se cachent tandis que Sinclair parcourt les couloirs. Profitant de son inattention, Sam surgit derrière lui et lui pose un couteau sur la gorge, en lui ordonnant de l'amener à Dean.

Sam arrive dans le salon, mais il se rend compte que ce n'est pas Sinclair qu'il tient au bout de sa lame, mais un polymorphe. Le vrai Sinclair l'attache à une autre colonne, et s'apprête à le torturer sous les yeux de Dean. Trop occupé, il ne voit pas Crowley qui se faufile et libère Dean de ses chaines. Le chasseur saisit la Première Arme, et décapite Sinclair. Seulement, après cela, Dean a du mal à s'en défaire, et il faut toute la force de persuasion de Sam pour lui faire lâcher la Lame.

Crowley s'auto-congratule tandis que lui et les boys retournent à l'Impala. Lorsqu'ils arrivent sur place, ils constatent avec effroi que la voiture a été fouillée, mais heureusement, les démons n'ont pas pu pénétrer dans le coffre, là où les précieuses informations ont été gardées. Quand Dean referme les portes de la voiture, le pire se déroule devant ses yeux : un message en énochien à destination de Crowley a été gravé sur les ailes de Baby. Il y est noté "Sois effrayé, Ta Reine". Puis, Sam rappelle à Dean que Crowley ne leur est plus utile, désormais. Les boys s'apprêtent à se charger du roi, mais Crowley les devance. Il les plaque contre la voiture, et récupère la Lame. Il promet de la leur remettre dès qu'ils auront trouvé Abaddon, mais en attendant, et en sachant qu'il ne peut pas leur faire confiance, il va la conserver précieusement. Sur ces mots, il disparait.
Ecrit par deanlove35.