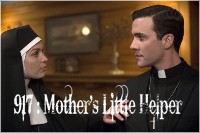 Résumé des épisodes précédents.
Milton, Illinois. Une institutrice rentre chez elle après avoir fait les courses. Lorsque son mari, affalé dans un fauteuil devant la télévision, lui demande ce qu'ils mangent pour le dîner, elle répond "meatloaf", ce qui semble ne pas lui plaire. Elle s'approche, se plaint des critiques incessantes de son mari, attrape un chandelier massif et le frappe encore et encore au visage, sans une once de remords.

*****************************SUPERNATURAL*******************************

Au bunker, Sam annonce le cas de l'institutrice à Dean et pense à un cas de possession. Mais Dean ne semble pas intéressé, et reste plongé dans ses recherches. Sam exprime son inquiétude sur ce qui semble être devenu une obsession pour Dean, mais Dean rétorque qu'il fait juste son boulot, à savoir trouver Abaddon au plus vite, pour se débarasser d'elle, puis de Crowley. Puis il assure qu'il va bien, et Sam s'en va seul pour chasser. Tandis que Sam sort, Dean prend la bouteille qu'il avait caché et boit à son goulot.
Sam se rend à Milton. Il parle au shériff qui fut le premier sur les lieux du crime, mais celui-ci n'a rien remarqué d'anormal. Pas de présence de soufre, et pas de changement de couleur des yeux de Karen, l'institutrice. Le shériff amène Sam voir Karen, mais lorsqu'ils arrivent à sa cellule, ils constatent avec horreur qu'elle s'est pendu, et que les murs sont recouverts de messages écrits avec du sang. Tandis que le corps est emmené à la morgue, le shériff, choqué et confus, avoue ne rien comprendre à ce qu'il s'est passé. De plus, rien dans les déplacements de Karen avant le meurtre n'indique quelque chose sortant de l'ordinaire.
Sam piétine, et appelle Dean pour lui faire un rapport sur l'affaire, mais Dean se montre distant. Il n'a pas plus avancé dans ses propres recherches, perdu dans ses pensées, et dans les souvenirs liés aux effets que la Lame associée à la marque lui ont procuré. Il compose un autre numéro, avant de rapidement raccrocher, puis décide de sortir.
Le soir venu, un jeune homme, au téléphone avec sa petite amie, marche sur le trottoir. Lorsqu'une camionnette passe près de lui, il lève le pouce. La camionnette s'arrête et le jeune homme reconnait immédiatement le conducteur. Il monte, heureux de pouvoir se mettre au chaud. Mais le vieil homme l'attaque, et tandis que la caméra nous montre l'arrière de la camionnette, où sont inscrits les mots St Bonaventure, nous voyons une vive lumière bleutée provenant de l'intérieur du véhicule.
Billy, le jeune homme, arrive dans le restaurant où Sam prend un bon dîner et un café. La serveuse promet à Billy de le servir rapidement, mais il n'attend guère qu'elle s'occupe de lui. Il saisit une poignée dans l'assiette à côté de lui et la dévore. La serveuse le sermonne, ce à quoi Billy rétorque méchamment qu'elle ne doit pas lui parler comme cela. Sam lui demande de se calmer. La serveuse, diplomate, essaie de rassurer Billy, qui semble enragé, en lui annonçant qu'elle va appeler sa mère. C'est alors que Billy saisit un couteau et le plante dans la main de la serveuse, alors qu'elle est posée sur le comptoir. La serveuse hurle de douleur, tandis que Sam intervient et assome Billy.
Plus tard, Sam retrouve le shériff tandis que Billy a été enfermé dans une cellule. Plusieurs autres personnes présentant le même comportement agressif sont enfermées également. L'une chantonne un air effrayant, l'autre écrit des messages de sang sur les murs, enfin un autre se tape inlassablement la tête contre les barreaux de sa cellule. Ces gens n'ont rien en commun, et tout ce que le shériff peut apprendre à Sam, c'est que Billy est monté dans une camionnette dans la soirée. Sam profite de l'absence du shériff pour jeter de l'eau bénite sur Billy. Cela ne lui fait rien, si ce n'est le mettre en colère. Il dit à Sam qu'il se sent libéré de toutes contraintes, et qu'il a fait ce qu'il a fait simplement parce qu'il le pouvait.
Tandis que le shériff lui amène les photos des caméras de surveillance de l'épicerie du coin, Sam appelle Dean pour lui donner les dernières nouvelles, et lui demander son avis. Tandis qu'il explique le comportement des gens, il se rend compte qu'ils agissent comme lui alors qu'il était privé de son âme. Dean suggère un démon des carrefours, mais Sam n'a rien vu de concret à ce niveau-là. Dean ne se montre guère coopératif, se montrant toujours aussi distant, et mentant allègrement en prétextant travailler, et en prétendant se rapprocher de son but, laissant Sam seul se débrouiller. Ils raccrochent, et on voit qu'en vérité Dean est dans un bar. Il est alors rejoint par Crowley.
Alors qu'il examine les photos, Sam entend la voix d'une vieille dame clâmer le retour des démons. Il prend le relais d'un jeune officier visiblement agacé, et prend la vieille dame à part pour qu'elle lui raconte l'histoire des fameux démons. Elle s'appelle Julia, et semble surprise que Sam soit avide d'entendre des histoires de démons. Elle lui demande alors s'il ne serait pas un des Men of Letters, annonçant que deux d'entre eux étaient venus à Milton, en 1958. C'est au tour de Sam d'être surpris. Il lui demande de tout lui raconter.
1958, Couvent Saint Bonaventure, Milton, Illinois. On frappe à la porte du couvent. Soeur Julia est sommée par la Mère Supérieur d'ouvrir aux visiteurs, un prêtre, et une nonne. Le prête n'est autre que Henry Winchester, et la nonne, Josie Sands. Ils prétendent être envoyé par le bureau de l'Inquisition.
Au bar, tandis que Dean joue au billard, Crowley tente une discussion. On apprend que c'est lui que Dean a essayé d'appeler avant de subitement raccrocher. Crowley essaie de savoir pourquoi Dean joue les girouettes, puis il émet une hypothèse : Dean s'est senti particulièrement puissant lorsqu'il a eu la Lame entre les mains, mais ce pouvoir, aussi attirant qu'il est, l'effraie. Dean ne nie pas.
Sam apprend de la part de Julia que son grand-père et Josie étaient ensemble pour enquêter. Mais enquêter sur quoi ? Julia explique que l'une des nonnes, Soeur Mary-Catherine, a tué deux personnes avant de se jeter du haut du clocher.
Flashback, 1958. Tandis que la Mère Supérieure examine de près la lettre d'autorisatioin qu'Henry lui a tendu, le petit groupe reste silencieux. Puis, elle tend la lettre à Soeur Agnès, qui leur souhaite la bienvenue, avant de les confier à Soeur Julia. La jeune femme leur demande, une fois à l'extérieur, où ils veulent commencer la visite, et ils répondent par la chambre de Soeur Mary-Catherine. Tandis qu'elle marche devant eux, Josie se tourne vers Henry pour lui indiquer son déplaisir à cotoyer des nonnes. Puis, elle s'inquiète de la mauvaise humeur d'Henry, qui lui confie alors ses craintes. Cette enquête est leur dernière étape avant la cérémonie d'initiation des Men of Letters, et le jeune père se demande si ce n'est pas égoïste de sa part de s'investir dans une telle mission. Que se passera-t-il pour Millie son épouse, et John, son jeune fils, s'il lui arrivait quelque chose ? Josie lui assure qu'ils seraient fiers de lui, mais Henry proteste vivement, allant jusqu'à assurer à Josie qu'elle ne peut comprendre parce qu'elle n'a pas de famille. Voyant sa partenaire visiblement blessée par la remarque, il s'excuse et lui assure que ce n'était pas ce qu'il voulait dire. Josie le rassure, et la conversation s'achève alors qu'ils pénètrent dans la chambre. Bien que les nonnes aient essayé de nettoyer les murs, des traces de sang sont toujours visibles, ainsi qu'un symbole étrange qui y est gravé. Josie et Henry sont d'accord pour dire qu'ils ont affaire à une possession démoniaque. Puis Josie examine le symbole, écrit en pré-énochien, et lit "Chevaliers de l'Enfer". Ce qui, visiblement, inquiète Henry.
Tandis que Soeur Julia entend des bruits dans le couloir du couvent, elle sort, et se fait capturer par Soeur Agnès. Elle se retrouve au sous-sol, attachée solidement à une chaise, tandis que l'une après l'autre, les personnes capturées sont emmenées dans une pièce où on leur enlève leur âme. Il ne reste plus que Julia quand Josie et Henry entrent, exorcisant deux démons. Mais Henry échoue à exorciser le démon qui possède la Mère Supérieure, et elle le met K.O. Elle croit avoir affaire à des chasseurs mais apprend par Josie que ce sont des Men of Letters. Elle décide d'étudier ce groupe en possédant Henry, mais Josie se livre à elle. C'est alors qu'Abaddon, le démon en question, comprend que Josie se sacrifie pour Henry parce qu'elle est amoureuse de lui. Elle entre dans le corps de Josie, ordonne à Soeur Agnès de continuer son travail, puis de jouer les morts. Elle se met ensuite dans la peau de Josie et réveille Henry pour lui apprendre qu'ils ont réussi à chasser les démons. Pendant tout ce temps, Soeur Julia, cachée derrière une grille, a tout vu.
Retour au présent. Sam apprend que le nom du couvent est Saint Bonaventure, le nom inscrit sur la camionnette que l'on peut voir sur les photos de la caméra de surveillance, et demande où il se trouve. Julia est surprise. Le couvent est fermé depuis des années.
Au bar. Crowley essaie de convaincre Dean que la marque de Cain et sa ressemblance avec ce dernier n'est pas une malédiction, mais un don. Dean ne veut rien entendre, niant toutes les assomptions de Crowley. Ce dernier prétend ensuite devoir aller aux toilettes. Tandis que Dean se remémore une fois de plus, la première fois qu'il a eu la lame entre les mains, il remarque un homme, non loin de lui, qui tient un chapelet. Puis il le voit prendre un poignard et se diriger vers les toilettes, où se trouve Crowley. Dean soupire, puis le suit.
Dean arrête le chasseur, Jake, avant que celui-ci n'entre dans les toilettes. Il lui assure qu'il n'a aucune chance de gagner contre un démon avec un simple poignard, et quand bien même il s'en sortait, il jetterait une malédiction sur toute sa famille, et sur toutes les personnes qu'il a jamais aimé. Finalement, Jake décide de renoncer, et remercie Dean avant de s'en aller. Puis Dean prévient Crowley qu'il faut partir.
Tandis que Sam arrive au couvent, Crowley rejoint Dean à l'extérieur du bar. Crowley avoue s'être drogué quand Dean l'accuse, bien qu'il semble tout à fait en paix avec son addiction. Il explique alors qu'il a décidé de l'accepter, et demande à Dean de faire de même. Il sent que Dean a envie d'avoir la Lame. Dean nie toujours, mais admet qu'il veut tuer Abaddon à tout prix, peu importe les conséquences que la marque aura sur lui. Sur ce, il s'en va. Jake, le chasseur, qui s'avère en fait être un démon, rejoint Crowley. Le but était en fait que Dean sauve Crowley, ce qu'il a fait. Maintenant, le roi de l'Enfer a la preuve qu'il voulait : Dean est prêt.
Sam arrive dans le sous-sol, et trouve des bocaux contenant des âmes posés sur une étagère. Il est attaqué par un démon, le tue, mais se retrouve surpris par Soeur Agnès. Il apprend alors qu'Abaddon a décidé, plutôt que de convaincre les démons de plaider allégeance, de fabriquer sa propre armée. Elle transforme les âmes volées en démons loyaux et dociles, et plusieurs autres "usines" sont disséminées dans le pays. Agnès décide de recruter Sam, mais il se défend en commençant la récitation d'un exorcisme. Elle commence à l'étrangler, mais Sam sort son téléphone portable, et met l'enregistrement de l'exorcisme en route. Agnès est obligée de le lâcher pour pouvoir arrêter l'enregistrement, et Sam en profite pour l'achever. Puis, il libère les âmes, qui se rendent directement à leurs propriétaires. Les hommes et femmes victimes des démons se réveillent comme après un long cauchemar, traumatisés.
Une fois l'affaire terminée, Sam demande à Julia pourquoi elle n'a pas prévenu Henry à propos d'Abaddon. Julia avoue qu'elle n'était pas préparée à devoir faire face au mal absolu, et qu'elle était terrifiée que parler pourrait provoquer plus de mal, surtout après les menaces d'Abaddon. Après cela, Julia a quitté le couvent, car elle avait honte d'être restée silencieuse. Sam lui offre la rédemption : en partageant son expérience avec lui, elle a pu sauver des vies. Puis il s'en va.
Flashback, 1958. Tandis qu'Heny et Josie/Abaddon s'apprêtent à partir, Henry avoue qu'il se sent particulièrement grisé par le fait d'avoir sauvé des vies. Cela a renforcé son envie de s'engager, effaçant ses hésitations. Tandis que la voiture démarre, Abaddon a un dernier regard pour Julia.
De retour au bunker, Sam retrouve Dean là où il était lors de son départ : attablé devant des tas de documents. Sam prend une pile de fichiers et se met aux recherches également, annonçant à Dean ce qu'Abaddon prépare. Cela se lit dans le regard des boys : il y a urgence.
Ecrit par deanlove35.