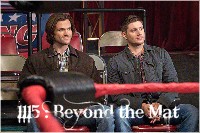 Résumé des épisodes précédents.

Brimson, Missouri. On assiste à un match de catch entre un jeune premier nommé Shawn Harley et un vétéran surnommé The Hangman. Le match se passe presque comme prévu quand, au moment de la pendaison de son adversaire, The Hangman, légèrement saoul, tire un peu trop fort sur la corde. Plus tard, dans les vestiaires, Harley vient régler ses comptes avec Larry The Hangman Lee. Gunner Lawless intervient. Shawn ne peut pas croire qu'il prenne partie pour un ivrogne et prévient Gunner de garder un oeil sur son partenaire s'il ne veut pas le retrouver blessé. Plus tard, alors que Larry se retrouve seul, il attrape sa gourde et boit une gorgée. Soudain, les lumières s'éteignent et il se retrouve pendu, cette fois, pour de vrai.



*****************************SUPERNATURAL***************************



Dean apprend à son frère la mort de Larry The Hangman Lee, qui était le catcheur favori de leur père. Il propose d'aller rendre hommage à ce catcheur. Sam proteste ; entre Amara, les Mains de Dieu et Castiel, ils ont déjà les mains pleines. Mais Dean lui rappelle qu'ils n'ont rien sur aucun de ces dossiers et qu'ils ont besoin de sortir, de se dégourdir les jambes. Sam finit par céder.

Lucifer a mis ses démons à la recherche des Mains de Dieu. Il s'approche de Crowley, afin de vérifier s'il sait quelque chose. Crowley prétend que non et retourne à sa tâche ; laver le sol avec une brosse à dents. Lucifer lui retire la brosse à dents et lui ordonne d'utiliser sa langue à la place. Crowley s'exécute, devant les démons hilares.

Arrivés aux funérailles de Larry, Dean et Sam repèrent plusieurs catcheurs qu'ils avaient vu à la télévision quand ils étaient enfants. Sam remarque qu'ils ont pris un sacré coup de vieux. Soudain, Dean repère Gunner Lawless, son catcheur favori. Après une courte hésitation, Dean va se présenter et ne peut s'empêcher de laisser la groupie en lui parler.

Sam de son côté, fait connaissance avec Rhea, à qui il avoue qu'elle était son premier fantasme. Elle explique qu'elle a arrêté les compétitions elle-même, aujourd'hui, elle travaille surtout en coulisses et aux commentaires. Elle lui dit que ses garçons et elle forment une famille et voir l'un d'entre eux partir, surtout en se suicidant, est quelque chose de douloureux. Sam est surpris ; le suicide n'était pas mentionné dans l'annonce du décès. Rhea explique que la famille ne voulait pas que cela se sache.

Sam rejoint Dean près du cercueil. Dean sait déjà pour le suicide. A la grande surprise de son frère, Sam propose à Dean d'aller voir un match le soir-même. Les voilà donc dans la salle, prêts à s'emballer. Sam ne se souvient pas que les salles étaient si petites. Mais les choses semblaient bien différentes quand ils étaient petits. Quand Sam apprend à Dean que les catcheurs ne vont gagner que 25 dollars ce soir, Dean est choqué. Il se demande pourquoi s'investir autant dans une vie qui rapporte si peu, pas même la gloire. Sam lui fait remarquer que leur vie de chasseur n'est pas très différente. Soudain, un père et son fils s'installent derrière eux. Sam ne peut s'empêcher de faire le parallèle avec leur propre enfance, ce à quoi Dean réplique qu'il ne devrait pas ruiner l'une des meilleures choses que leur père a fait pour eux. Puis, le match commence enfin. Quand Gunner Lawless rentre, Dean est en extase et durant le match, Sam se prend au jeu. D'abord battu par son adversaire, Gunner retourne les choses et finit par être vainqueur. Au même moment, le père laisse son fils seul quelques minutes, le temps de se rendre aux toilettes. Voyant qu'il y a trop de monde devant la porte, il sort. Tandis qu'il s'apprête à uriner, quelque chose s'approche de lui et le poignarde violemment, faisant gicler son sang sur la porte de la remorque d'un camion.

Après avoir interrogé la police et le fils de la victime, Sam rejoint son frère et lui dit qu'il pense qu'ils ont une affaire potentielle, car les marques sur la victime ressemblent à des marques rituelles. Sam dit qu'il va retourner au motel afin de chercher des informations sur les symboles et de son côté, Dean reste sur place afin de voir ce qu'il peut trouver. Il rentre dans la salle et profite d'être seul pour monter sur le ring et s'imaginer en catcheur. Il est interrompu dans son délire par l'arrivée de Rhea, qui le félicite pour ses mouvements. Il se présente en tant qu'agent du FBI. Elle avoue ne pas connaitre la victime, mais que ce n'est pas la première fois qu'il y a des morts lors d'un de leur passage. Elle dit que même ses garçons pensent qu'ils sont maudits. Elle explique que, comme elle n'a pas le budget d'employer toute une équipe technique qui voyagerait avec eux, elle emploie des locaux partout où ils passent. Dean demande où se trouvent les autres catcheurs et elle lui dit d'aller voir au bar le plus proche.

En Enfer, la démone proche de Lucifer vient chercher Crowley dans sa cage. Elle lui dit qu'elle est là pour le sortir de là, et lui assure que certains démons, dont elle, veulent le voir revenir et voir Lucifer quitter le trône.

Dean se rend au bar, où tous les catcheurs se trouvent, dont Gunner Lawless, assis au comptoir. Dean s'asseoit auprès de lui et lui révèle son badge. Il l'interroge sur les différents accidents arrivés sur leur route. Gunner explique que selon lui, c'est simplement dû au tempérament des fans de catch. Il exhibe alors à Dean ses différentes cicatrices. Soudain, Shawn Harley commande de nouveaux verres à la barmaid. Gunner lui demande d'être plus courtois, mais Shawn le prend mal et commence à provoquer Gunner. Les deux hommes se font face, puis Shawn frappe Gunner. Rhea intervient aussitôt et Shawn lui apprend qu'il a surpris Gunner avec un dealer avant le match. Gunner prétend qu'il ment. Alors que Shawn s'apprête à se jeter sur lui, Rhea l'arrête et lui demande de rentrer au motel. Elle prévient Gunner qu'ils auront une discussion le lendemain matin. Dean aide ensuite Gunner à se relever. Avant cela, il a reçu un appel de Sam qui lui confirme qu'ils ont une affaire en cours et il pense à un démon. Sachant que Rhea n'emploie que des locaux pour la technique, le démon doit forcément être l'un des catcheurs. Dean commence par vérifier si c'est Gunner Lawless en lui versant discrètement de l'eau bénite dans son verre. Mais lorsque Gunner boit, rien ne se produit. Dean réalise alors qu'il va devoir payer une tournée générale.

La démone s'apprête à faire sortir Crowley, quand deux démons les surprennent. Crowley joue d'abord les innocents, puis réagit rapidement et tuent les deux démons. Il commence à reprendre de l'assurance.

Sam retrouve Dean étalé sur une banquette au bar. Dean explique qu'il a offert des verres de tequila coupée d'eau bénite à tous les catcheurs présents, et qu'il a dû participer à la beuverie. Il a vérifié tous les catcheurs, sauf un : Shawn Harley, parti avant. Les boys se rendent donc à son motel. Alors que personne ne répond quand ils frappent à la porte, ils entrent, pour trouver la chambre sans dessus dessous.

Tandis que Crowley retrouve son costume, Dean et Sam vérifient les images de la caméra de sécurité filmant devant le motel. Ils voient Harley rentrer dans sa chambre, puis un peu plus tard, un van se gare devant. Quelqu'un ressort alors avec un Harley inconscient sur les épaules et le met dans le van. Les boys se rendent compte qu'il s'agit de Gunner Lawless.

Les boys finissent par comprendre où Gunner a emmené Shawn. Tandis qu'ils partent du motel, Shawn, attaché à une chaise, le visage tuméfié, fait connaissance avec le dealer de Gunner, qui est en fait un démon des carrefours. Le démon lui propose un deal ; il aura tout ce qu'il veut, en échange de son âme et de ses services, c'est-à-dire que de temps en temps, le démon lui demandera de tuer quelqu'un, comme il le demande à Gunner. Shawn refuse. Alors, le démon lui sectionne l'un de ses tendons d'Achille et demande ensuite à Gunner de le tuer.

Crowley emmène Simmons, la démone, dans l'un de ses entrepôts privés. C'est ici qu'il garde l'une des Mains de Dieu dans une boîte de bois, qui n'est autre que la baguette d'Aaron, donnée par Dieu à ce dernier. Simmons demande à la toucher, mais Crowley refuse, lui disant qu'elle ne peut gérer un tel pouvoir. C'est alors que Lucifer apparait en disant que lui, il le peut.

Dean et Sam arrivent trop tard pour sauver Shawn, que Gunner a déjà tué. Ils sont alors surpris par le démon, qui les plaque contre le mur. Pendant ce temps, Lucifer avoue que Simmons a piégé Crowley. Il dit à ce dernier que les démons le détestent et c'est bien normal, quand on considère qu'il n'est rien de plus que le fan numéro un de Dean Winchester.

Le démon ordonne à Gunner de tuer Dean. Gunner se jette sur Dean qui a bien du mal à résister. Sam tente de se jeter sur le démon, mais ce dernier le bloque immédiatement.

Lucifer explique que plutôt que torturer Crowley pour obtenir ses secrets, il a décidé de fomenter un plan afin qu'il le conduise directement là où il voulait. Tandis qu'il s'apprête à ouvrir la boîte, il avertit Crowley que c'est la fin pour lui. Mais quand il l'ouvre, il découvre que la baguette a disparu. Crowley en a déjà pris possession et laisse le pouvoir de l'objet pénétrer en lui. Il tente d'utiliser ce pouvoir sur Lucifer, mais Simmons se jette devant l'archange et se sacrifie.

Tandis que Gunner attache Dean à une chaise, ce dernier lui avoue qu'il sait tout sur les démons, les pactes et l'Enfer. Gunner explique qu'il a vendu son âme pour remporter un prix, dix ans auparavant. Dean lui assure que ce n'est pas trop tard pour faire le bon choix, malgré ses erreurs passées.

Crowley tente de nouveau d'utiliser son nouveau pouvoir, mais les batteries sont déjà vides. Lucifer s'approche, menaçant, mais Crowley parvient à s'enfuir avant que l'archange ne le tue.

Le démon explique à Sam que Crowley étant hors service et Lucifer étant à la tête de l'Enfer, il peut garder toutes les âmes récoltées pour lui. Et pour être plus efficace, il a choisi de déléguer une part du travail. C'est le rôle de Gunner, qui en échange, ne sera pas dévoré par les chiens de l'Enfer. Soudain, Dean apparait, mais le démon le fait voltiger. Il ne voit pas Gunner derrière lui, qui le poignarde et le tue. Soudain, des hurlements se font entendre. Les chiens de l'Enfer sont là pour récolter l'âme de Gunner. Dean lui tend son arme pour se défendre, mais Gunner refuse. Il avoue n'avoir jamais aimé le reflet que le miroir lui renvoyait. Il mérite ce qui lui arrive. Les boys sont contraints de s'enfuir. Les chiens entrent et se jettent sur Gunner.

Les boys, de retour au bunker, font le bilan. Dean ne va pas bien, mais au lieu de se morfondre, il est plutôt remonté. Il assure à son frère et à lui-même, qu'ils sauveront Castiel, qu'ils détruiront Lucifer et qu'ils se débarrasseront d'Amara. Et ceux qui se mettront en travers de leur chemin en auront pour leur argent. Sam approuve.
Ecrit par deanlove35.