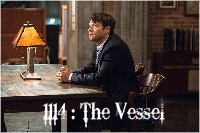 Résumé des épisodes précédents.

France occupée, 1943, au QG de la Gestapo. Befehlsleiter Gumprecht, un officier nazi allemand, prévient sa hiérarchie qu'il a trouvé ce qu'ils cherchaient. Delphine, sa maîtresse française, demande à voir l'objet, enfermé dans un petit coffre. Elle n'a pas trop de mal à convaincre l'officier de le lui montrer. Elle l'ouvre, observe l'objet, médusée, puis, avec sa barrette, poignarde l'officier dans le cou. Ensuite, elle le poignarde dans le coeur avec une dague. Elle récupère le coffre et dit à l'officier, en guise d'adieux, que les Men of Letters le saluent.
*****************************SUPERNATURAL***************************



Dean se lève pour constater, avec mauvaise humeur, qu'ils sont à cours de café. Sam ne fait pas attention à ses protestations et lui parle de ses dernières découvertes : les Nazis avaient une branche de leur organisation entièrement consacrée à l'archéologie. Ils s'étaient mis en tête de retrouver les objets appelés Main de Dieu, objets touchés par le Créateur lui-même durant les temps bibliques et supposés detenir une partie de ses pouvoirs. La branche nazi française avait apparemment retrouvé l'une de ces Mains, mais se l'est faite volée par une certaine Delphine Seydoux, une Femme de Lettres. Ils n'ont jamais pu la retrouver. Sam pense que cette Main de Dieu pourrait leur donner une chance contre Amara. Dean se montre alors plus attentif.

Les démons tentent de communiquer avec Lucifer, qui n'a pas grand-chose à faire du nombre d'âmes récoltées. En revanche, lorsqu'un démon tente d'aborder le sujet d'Amara, il se montre plus attentif. Cela dit, ils n'ont aucune nouvelle à lui apporter. L'une des démones s'approche pour assurer Lucifer que, s'il laissait les démons sortir, ils déploieraient des trésors pour la retrouver. Elle lui dit que maintenant qu'ils sont débarrassés du lâche et de l'incompétent qui leur servait de roi, ils devraient agir plus efficacement. Crowley, enfermé et attaché dans une cage, a quelques protestations à faire. Lucifer le fait sortir.

Sam et Dean recherchent des informations supplémentaires sur Delphine et les branches européennes des Men of Letters. Ils finissent par trouver un rapport écrit en français, que Sam s'empresse de traduire par ordinateur. Ils découvrent alors que Delphine et la Main de Dieu ont embarqué dans un sous-marin américan, le USS Bluefin, en direction des Etats-Unis. Malheureusement, ils n'ont jamais pu atteindre leur destination, car le sous-marin a été attaqué par un navire allemand à mi-chemin, avant de disparaitre. L'épave n'a jamais été retrouvée. Mais Dean a sa petite idée pour se faire.

Lucifer a fait rapatrier toutes ses armes, mais Crowley a quelques remarques, que l'archange l'oblige à dire. Crowley pense que Lucifer ne peut battre Amara, malgré toutes les armes à sa disposition. Si Lucifer pensait le pouvoir, il l'aurait déjà attaquée. Lucifer lui dit qu'il a raison ; la première fois qu'ils ont battu Amara, ils étaient plusieurs. Mais il prévient Crowley qu'il devrait se montrer plus coopératif, au risque de retourner dans sa cage. Soudain, Lucifer reçoit un appel de Dean. Il répond, en reprenant la voix de Castiel.

Cassifer confirme la théorie des Mains de Dieu, mais il pensait qu'elles avaient toutes disparues lors du Déluge. Il propose alors à Dean de l'emmener chercher le morceau de l'Arche sur le sous-marin, en le faisant voyager dans le temps, prétendant qu'il n'a pas besoin de ses ailes pour cela. Sam n'est pas tout à fait d'accord sur ce plan, trop risqué selon lui, surtout que Dean souhaite y aller seul. Dean lui assure qu'il fera de son mieux, mais si les choses devaient mal tourner, Sam doit rester ici afin de pouvoir combattre Amara. Dans la mesure où Dean est incapable de la tuer, il faut qu'il puisse au moins fournir l'arme à Sam afin que ce dernier puisse prendre le relais. Après avoir fait promettre à Cassifer de ne pas quitter Dean des yeux, Sam accepte. Cas' embarque alors Dean, qui se retrouve au bon endroit et à la bonne époque, mais seul.

Dean se cache sous une couchette, tandis que l'un des soldats s'installe. Il aperçoit alors un sigil peint sur l'un des murs. Il fait glisser une pièce de monnaie, attirant l'attention du soldat, et en profite pour le neutraliser, afin d'enfiler son costume et de passer inaperçu parmis l'équipage. Pendant ce temps, Cassifer revient au bunker, complètement trempé. Il explique à Sam que des sigils l'ont empêché de pénétrer sur le navire. Sam demande d'abord à ce que Cassifer l'amène là-bas, mais il refuse. Alors, Sam cherche un moyen de détruire les sigils de leur propre époque, afin de pouvoir ramener Dean en temps voulu.

Dean fouille le sous-marin à la recherche de Delphine. Grâce au cuistot, il parvient à la trouver. Mais en l'entendant prononcer son vrai prénom, elle le plaque contre un mur, attirant l'attention des soldats et du capitaine. Elle est surprise quand il dit être un Men of Letters. Mais le soldat que Dean a attaqué arrive aussi et le dénonce comme un imposteur. Dean, immobilisé, raconte à l'équipage, au capitaine et à Delphine, qu'il vient du futur. Il prévient le capitaine de l'attaque du navire allemand, dans quelques heures.

Le capitaine est appelé ailleurs, laissant le soin à son soldat de surveiller Dean, tandis qu'il s'entretient avec Delphine. Le capitaine a alors l'occasion de se voir confirmer l'attaque imminente d'un navire allemand et il fait aussitôt plonger le sous-marin. Pendant ce temps, Dean raconte son histoire, tout en essayant de répondre aux questions du soldat qui tente de savoir si son histoire de futur est vraie. Dean avoue qu'il est ici pour récupérer la Main de Dieu, afin de la ramener dans son époque pour mener sa propre guerre. Il confirme, au passage, que les Alliés vont gagner, mais que malheureusement, tout l'équipage, ainsi que Delphine, vont mourir dans l'attaque du sous-marin. Delphine le croit et lui dit qu'elle lui fait confiance. Dean lui demande également de détruire les sigils qu'elle a marqué un peu partout, afin de permettre à son ami angélique de venir le récupérer.

Sam trouve un sortilège qui pourrait permettre de détruire tout sigils. Mais en lisant les ingrédients nécessaires, il se rend compte qu'il leur faut le pouvoir d'un archange. Cassifer lui dit qu'ils pourraient quand même essayer, mais Sam, convaincu qu'il a affaire à Castiel, lui assure que ça ne marchera pas, car l'ange, même à plein pouvoir, n'est pas assez puissant. Tandis que Sam s'éloigne, Cassifer récupère son livre.

Delphine remet le morceau de l'Arche à Dean, en le prévenant qu'il ne faut surtout pas le toucher à mains nues, au risque d'en mourir. Puis, elle s'en va détruire les autres sigils. Pendant ce temps, le soldat, resté avec Dean, lui demande quand les Alliés vont gagner. Il lui répond que la victoire viendra en 1945, pas avant. Au même moment, après avoir repéré la position du navire ennemi, le commandant donne l'ordre de se mettre en position de combat. Soudain, le navire disparait, pour réapparaitre sur les radars, juste au-dessus d'eux. L'ordre est donné de faire silence complet. La tension monte, jusqu'à ce que le navire libère des tonneaux explosifs dans l'eau. Delphine revient vers Dean et lui tend le poignard, avant de lui demander de la tuer. En effet, le dernier sigil est gravé sur sa peau et son pouvoir ne pourra s'éteindre que si elle meurt. Dean hésite, s'apprête à la tuer, quand l'un des tonneaux explose près du sous-marin.

Cassifer prépare le sortilège. Quand il s'en aperçoit, Sam tente de l'arrêter, puis lui propose d'utiliser son âme comme il l'avait fait avec Bobby, afin de ramener Dean. Mais Lucifer en a assez de jouer la comédie. Il se rend compte qu'il n'a pas besoin de Sam, car c'est Dean qui a le lien avec Amara. Mais juste pour le plaisir de torturer Sam, il accepte de toucher son âme et ensuite, il utilisera le sortilège pour récupérer Dean. Sam reconnait alors Lucifer. Ce dernier enfonce sa main dans la poitrine de Sam, mais Castiel, toujours à l'intérieur, lutte suffisamment fort pour la lui faire retirer.

Le sous-marin reçoit un message du bateau allemand. C'est Delphine qui en est la destinataire, aussi la font-ils venir avec Dean. Elle découvre que c'est son ancien allemand, en fait un Thule, qui commande le bateau. Il donne un ultimatum à l'équipage : soit ils lui remettent Delphine et son coffre, soit ils meurent. Il leur laisse trois minutes pour se décider. Le capitaine américain, cependant, assure à Delphine que leur mission était de la protéger, elle et son coffre et qu'ils ne vont pas se détourner de cela. Delphine demande une nouvelle fois à Dean de la tuer afin de sortir d'ici avec le coffre le plus vite possible. Mais Dean refuse et souhaite l'aider. Delphine lui dit que ça ne servira à rien, si ce n'est à rapprocher l'arme des mains des Nazis. Elle a alors une autre idée, afin de permettre à Dean de repartir et à l'équipage de se payer leur premier navire ennemi. Elle demande au capitaine de maintenir le sous-marin en équilibre aussi longtemps que possible.

Castiel profite de son court répit pour parler à Sam. Il lui explique que d'avoir dit 'oui' à Lucifer était la seule façon qu'il a trouvé d'être utile à leur combat. Sam lui assure qu'il doit lutter pour l'éjecter, qu'ils n'ont pas besoin de Lucifer pour combattre Amara. Mais Castiel sait qu'il est trop tard, de plus, seul Lucifer peut voyager dans le temps et ramener Dean.

Le délai est passé. Delphine prend la Main de Dieu et son pouvoir pénètre en elle, éliminant au passage le sigil qu'elle porte. Tandis que tout explose autour d'eux, Lucifer arrive pour ramener Dean, qui vient de récupérer la Main de Dieu dans un chiffon. Une fois de retour au bunker, Sam avertit Dean que ce n'est pas Castiel à ses côtés.

Lucifer fait voltiger Dean et récupère la Main de Dieu. Il se dit soulagé de ne plus avoir à jouer la comédie, et pendant qu'il parle, Sam en profite pour tracer un sigil avec son sang, discrètement. Lucifer prend la Main de Dieu à pleine main, mais rien ne se produit. Son pouvoir a déjà été utilisé. Tandis qu'il s'apprête à passer sa colère sur Dean, Sam utilise le sigil et Lucifer disparait.

Les boys se remettent de leurs émotions au bord d'un lac. Dean ne peut croire que Castiel se soit donné à Lucifer volontairement et qu'il ne veuille pas revenir. Ils trouveront un moyen de le sauver. Sam demande ensuite à Dean s'il veut parler de son expérience dans le sous-marin, mais Dean refuse. Puis, il demande à Sam ce qu'il s'est passé pour le navire allemand. Sam explique que, contrairement au sous-marin, l'épave du navire allemand a été retrouvée, un trou immense en son centre. Quelque chose l'a fait brûler de l'intérieur. Tandis que Sam s'éloigne, Dean ne peut s'empêcher de sourire en regardant la Main de Dieu désormais usée, ses pensées tournées vers la courageuse Delphine.
Ecrit par deanlove35.