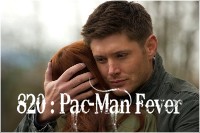 Dean se réveille dans une mystérieuse pièce, il est habillé en médecin militaire. Il sort de la pièce, et découvre plusieurs cadavres. Il aperçoit un journal, et comprend qu'il est en pleine année 1951. Dean appelle alors l'ascenseur, mais une créature s'approche dangereusement de lui …
SUPERNATURAL
24 heures plus tôt
Au bunker, Sam s'est enfin réveillé après avoir quasiment dormi une journée entière, il n'est pas très en forme, mais tiens absolument à retrouver Kevin, malgré les avertissements de son frère. Sam insiste, alors Dean souhaite qu'il lui prouve qu'il va bien via un stand de tir. Malheureusement le test s'avère non concluant pour Sam, et les deux frères vont rester tranquillement au bunker, jusqu'à ce que la santé de Sam leur permettent de sortir.
Les garçons reçoivent alors un email de Charlie, cette dernière leur annonce qu'elle a une affaire pour eux, mais qu'elle n'arrive pas à les localiser. Ils comprennent que le Bunker est vraiment bien sécurisé. Ils vont donc retrouver Charlie, qui est dans les parages pour une convention à Topika, et ils décident de lui présenter la batcave. Charlie adore l'endroit. Elle leur parle ensuite de son affaire qui semble très sérieuse, cette dernière a vraiment pris goût à la chasse depuis leur dernière visite. Elle leur avoue même qu'elle a lu tout les livres de Carver Edlund. Sam et Dean n'ont qu'une envie, brûler tout les livres, mais malheureusement pour eux, ils sont maintenant disponible sur le net. Dean décide d'aller enquêter, mais Sam veut venir, mais sa santé ne le permet pas. Charlie veut l'accompagner, Dean n'accepte que si elle passe le test du stand de tir, Charlie le réussit alors haut la main.
Une séance de relooking s'impose pour Charlie, Dean explique alors ce qui s'est passé ces derniers temps pour Sam avec les trials … Charlie lui dit qu'elle trouve ça bien qu'il est un frère qui soit toujours là pour veiller sur lui et vice versa. Dean lui demande alors si elle a des frères et sœurs, elle lui avoue que sa seule famille qu'il lui reste sont ces consoles de jeux vidéo. Dean utilise ensuite le téléphone de Charlie pour prendre des nouvelles de Sam. Ce dernier lui affirme qu'il va bien, et s'entraine de nouveau au stand de tir. Il semble même satisfait du résultat.
Charlie et Dean sont à la morgue, car ils souhaitent voir le corps de la dernière victime, mais ils tombent sur le docteur Jennifer O'Brien qui n'accepte pas leur demande, tant qu'ils n'auront pas la paperasse requise. Charlie est très effrayée, et Dean tente par tout les moyens d'obtenir ce qu'il veut, mais rien n'y fait, la légiste ne veut rien savoir. Ils décident alors d'aller manger un morceau et reviendront plus tard dans la soirée, pour rentrer par effraction. Même si cette option n'enchante guère Charlie qui garde de très mauvais souvenirs, elle accepte la requête de Dean.
Sur une voie ferré, deux gamins se promènent tout en jouant à leur consoles portables. L'un d'eux découvre avec stupeur un corps, la victime à un ventre énorme. Un des gamin s'amuse alors à trifouiller le ventre du pauvre cadavre avec un bâton, malgré les mises en garde de son ami. Finalement il y'a un éclatement et de la chair et du sang s'explosent sur eux et sous leurs cris horrifiés.
Charlie et Dean se rendent près de la voie ferré et y retrouve avec surprise Sam, Dean est en colère contre son frère et lui demande immédiatement de rentrer au bunker. Charlie pendant ce temps prend quelques infos auprès des deux jeunes qui ont découvert le cadavre. Sam lui refuse de s'en aller et veut absolument continuer l'enquête. Charlie informe ensuite les deux frères que la victime avait apparemment une marque de main bleu sur le bras. Dean demande donc à Sam d'aller faire des recherches la dessus, bien au chaud au bunker. Mais Sam refuse et insiste pour continuer ce qu'il a commencé. Dean finit par perdre patience et s'en va. Charlie est donc coincé avec Sam, et lui dit qu'ils n'auront donc pas à rentrer par effraction à la morgue. Mais Sam trouve l'idée brillante et décide de s'y rendre, et puis comme il a voler la voiture de Charlie, ils ont déjà un moyen de locomotion.
Dean arrive à la morgue et rentre par effraction, il est surpris par Sam et Charlie qui sont déjà sur place. Dean a fait un arrêt à la station service et avait donc un train de retard sur son frère et son amie. Mais la légiste O'Brien est de retour, les Winchester vont vite dans la morgue pour autopsier les corps, pendant que Charlie ira faire comme elle peut diversion auprès du coroner. Sam et Dean découvrent avec stupeur que les corps des victimes ont été trop rapidement brûlés et trouvent ça suspect. Pendant ce temps, Charlie se débrouille tant bien que mal pour divertir la légiste, et réussit à laisser le temps nécessaire à ces amis pour qu'ils puissent sortir de la morgue.
De retour au bunker, les trois chasseurs tentent de percer le mystère autour de tout ces morts. Charlie à ces propres méthodes, mais la méthode la plus efficace reste le journal de John, en effet Dean réussit à trouver les réponses à leurs questions. Il s'agirait de l'enfant d'un Djinn, et fort heureusement pour eux, la façon de les tuer est la même que pour un Djinn classique. Charlie est ravie et leur propose d'aller leur chercher de la nourriture.
De retour chez elle, Charlie ouvre une boite qui contient plusieurs passeports de différentes nationalités et différentes identités, elle allume son ordinateur et commence à envoyer de l'argent sur un site internet. Elle est interrompue par du bruit. Elle va donc vérifier, et est soudain attaquée par la légiste O'Brien qui n'est autre que le Djinn.
Sam est inquiet pour Charlie, il a tenté plusieurs fois en vain de la contacter, surtout qu'elle a menti au sujet de la convention de Topika, il n'y avait aucuns événements de prévue. Dean arrive et vérifie son téléphone, en effet ce dernier avait activé le GPS du téléphone de Charlie un peu plus tôt.
Les Winchester débarquent chez Charlie et découvrent que leur amie a été kidnapper, ils comprennent également qu'elle avait plusieurs identités, et qu'elle faisait des donations importantes à l'hôpital de Topika, pour une patiente du nom de Gertrude Middleton. Dean s'occupe donc de Gertrude et demande à Sam de continuer de creuser du coté du Djinn.
À l'hôpital, Dean apprend par une infirmière que Gertrude est dans un état végétatif depuis plus de 16 ans, et qu'elle est maintenue en vie uniquement par un tuyau et grâce à des donations. En effet Gertrude et son mari ont eu un grave accident de voiture. Ce dernier n'a pas survécu, ils allaient tout les deux récupérer leur petite fille de 12 ans qui dormait chez une amie, quand ils ont été percutés par un chauffard ivre. Depuis elle reçoit quelques visites par une personne inconnue qui vient lui faire la lecture. Dean comprend rapidement qu'il s'agit de la mère de Charlie, et que c'est elle-même qui vient faire de temps en temps la lecture à sa mère. Il promet alors à Gertrude qu'il fera tout ce qu'il peut pour retrouver sa superbe fille.
Dans un entrepôt, Charlie est prise au piège par Jennifer O'Brien, elle lui explique que contrairement aux autres Djinns, ce qui l'attire le plus c'est la peur, et c'est-ce qui la attiré le plus chez elle justement, elle sera le parfait repas pour deux. Charlie ne comprend pas, mais elle n'aura pas le temps de réagir, car la légiste a déjà posé ces mains sur elle et commencé le processus. Pendant ce temps, Dean explique à Sam à propos de Gertrude et des similitudes avec leur famille, et Sam lui annonce que la légiste est leur principal suspect, surtout qu'elle est devenue beaucoup trop négligente ces derniers temps. Charlie elle de son coté, explique à la légiste que Dean saura la retrouver, et se venger. Jennifer n'attend que ça, lui aussi sentait la peur à des kilomètres, et elle termine le processus sur la pauvre Charlie apeurée. Sam explique à Dean que la légiste à deux propriétés en ville, une maison avec deux chambres, et un entrepôt abandonné. C'est donc cette piste qu'ils vont suivre.
En arrivant à l'entrepôt, Dean et Sam se séparent, Dean retrouve rapidement Charlie mais il n'arrive pas à la réveiller. Sam lui est très vite attaqué par le Djinn, mais Dean réussit à la tuer avant qu'elle ne touche son frère. Ils font l'antidote à Charlie, mais elle ne se réveille toujours pas. Ils décident de rentrer carrément dans le subconscient de leur amie en utilisant la racine des rêves (voir l'épisode 310) Dean demande un coup de main à Sam pour qu'il s'endorme plus rapidement, son frère ne se fait pas prier, et assomme Dean avec un bon coup de poing.
Dean se réveille donc en pleine année 1951, habillé en médecin militaire, un ascenseur s'ouvre et il tombe enfin sur Charlie vêtue tout de noir et armée jusqu'aux dents. Charlie lui demande ce qu'il peut bien faire dans son rêve, Dean explique à Charlie l'attaque de Jennifer le Djinn, et qu'ils sont censés être dans son endroit préférée, et qu'il le trouve assez étrange. Elle dit alors à Dean que l'espèce de Djinn de Jennifer absorbe leur peur et non leur bonheur. Ils sont dans l'un des cauchemars de Charlie, et c'est un jeu vidéo sur des supers vampires mutants qu'il faut exterminer. Charlie avait hackée ce jeu quand elle avait 12 ans et a été arrêtée pour ça avant d'être en cavale. Sam pendant ce temps prend soin des corps de Dean et Charlie, mais un bruit le surprend. Dans le rêve de Charlie, elle demande à Dean comment ils vont pouvoir sortir d'ici, Dean ne sait pas, surtout qu'il a tué le Djinn, mais Charlie lui annonce qu'il y'en avait un deuxième.
Sam découvre en même temps que Dean que le Djinn avait un fils, Dean demande des explications à Charlie au sujet du jeu, elle lui explique qu'elle a déjà terminée plusieurs fois le niveau, mais que à chaque fois qu'elle sauve la patiente, elle recommence à zéro, sauf qu'elle a moins d'armes et que les vampires deviennent plus rapides. Dean découvre que la patiente n'est autre que Gertrude. Il explique à Charlie qu'il sait tout à propos de Gertrude. Charlie avoue alors à Dean que c'est sa mère qui a fait d'elle tout ce qu'elle est, et qu'elle adorait lui lire The Hobbit. Charlie continue de lui le lire souvent. Sam lui est en plein combat avec le fils de Jennifer, et comprend que c'est à cause de lui que plusieurs corps ont été retrouvés liquéfié. Il réussit à prendre rapidement le dessus et le tue. Dean découvre le corps de Sam dans les patients du jeu, et alors qu'il tue des vampires avec Charlie, il pense que la solution pour cesser l'emprise du Djinn est d'arrêter de jouer. Charlie refuse, elle a trop peur, surtout qu'elle pense que c'est de sa faute si sa mère est dans le coma. Il y'a 16 ans, elle était à une soirée pyjama, mais elle a eu peur, et a préférée rentrer. Mais sur la route ses parents ont eu ce terrible accident. Elle aimerait juste s'excuser auprès de sa maman, et lui dire une dernière fois qu'elle l'aime. Dean comprend mais lui dit que ce n'est pas de sa faute, et qu'elle doit la laisser partir. Charlie finit par se laisser aller, et abandonne la partie. Les deux amis se réveillent enfin, sous les yeux soulagés de Sam. Dean s'excuse auprès de Charlie qui est effondrée.
Le lendemain, Charlie dit au revoir aux garçons, elle en profite pour assurer à Sam que si une seule personne peut réussir les trials, c'est bien lui, il l'a remercie, et lui dit qu'elle peut revenir quand elle veut, ils ont bien besoin d'une femme de lettres comme elle. Sam laisse alors Charlie avec Dean. Elle explique à Dean qu'elle va se rendre à l'hôpital, afin que sa mère puisse partir en paix, et lui demande si lui va abandonner. Bien sur, Dean répond que jamais il ne laissera tomber. Ravie de sa réponse, les deux amis s'étreignent et se disent au revoir.
Dean retourne au bunker, Sam commence à s'excuser auprès de son grand frère, mais à son grand étonnement, Dean étreint son frère, et lui dit qu'il ont un prophète à retrouver.
Charlie est à l'hôpital et signe les papiers pour éteindre les machines de sa mère. Mais avant elle décide de lire une dernière fois The Hobbit dans la tranquillité et la sérénité, afin de profiter de ces derniers instants …
Écrit par Bibou.