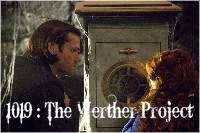 Résumé des épisodes précédents.

St Louis, Missouri, 1973. Dans une famille américaine moyenne, un frère et une soeur se disputent. La mère vient réquisitionner les services de sa fille afin de l'aider à entretenir la maison. La jeune fille doit faire la lessive. Elle se rend au sous-sol, mais au lieu de s'occuper de la lessive, elle attrappe un marteau et défonce un mur. Derrière, elle découvre un coffre-fort. Elle tente de l'ouvrir, mais elle est projetée en arrière par une onde de choc. Tandis qu'elle git, inconsciente, sur le sol, une fumée jaunâtre s'échappe du coffre et remonte dans la maison. La jeune fille reprend connaissance. Tout est très calme dans la maison. Elle recherche sa famille, trouve son père, mort, dans son bureau. Puis, c'est son frère, qu'elle retrouve pendu dans le hall. Elle se précipite alors auprès de sa mère, qui se tranche la gorge.



*****************************SUPERNATURAL***************************



Sam négocie avec Rowena afin d'obtenir son aide pour déchiffrer le Livre des Damnés. Rowena accepte, à une condition ; Sam doit tuer Crowley pour elle. Puisque cela rejoint les intérêts de Sam, il ne met pas longtemps à accepter. Rowena s'en réjouit. Puis, elle lui demande de lui ramener le codex d'une sorcière appelée Nadia, détenu par les Men of Letters. Elle en aura besoin pour décoder le livre. Dans le même temps, Sam reçoit un message de Dean qui le prévient qu'il chasse un nid de vampires à Tulsa et qui lui propose de se joindre à lui.

Sam rejoint Dean à Tulsa. Mais Dean s'est déjà occupé du nid à lui tout seul ; six vampires sont morts. Sam semble inquiet par le fait que son frère se soit donné à cette tuerie, mais Dean ne voit pas où est le problème. Il propose à Sam d'en reparler une fois qu'il se sera nettoyé et reposé. Les boys repartent au bunker.

Tandis que Dean dort à poing fermé, Sam recherche le codex. Il trouve une bande sonore d'un conseil disciplinaire durant lequel Cuthbert Sinclair a paru devant ses frères. Ce conseil a été rassemblé après que Cuthbert a enfermé le codex dans un coffre-fort ensorcelé, qui a provoqué la mort de deux Men of Letters. Cuthbert refuse de donner les clés pour arrêter le projet Werther, comme il l'a appelé, car c'est le meilleur moyen de protéger le codex contre le Grand Coven. Mais les Men of Letters décident de virer Cuthbert et d'enterrer le coffre-fort à jamais. Après quoi, Sam trouve l'adresse à St Louis où le coffre se trouve toujours.

Après cela, Sam appelle Rowena. Il lui demande un sortilège qui permettrait d'arrêter celui qui protège le coffre. Rowena accepte de coopérer, mais demande à venir sur les lieux. Sam refuse et raccroche avant que Rowena n'a le temps de protester.

Sam se rend à St Louis. Il s'apprête à crocheter la serrure de la porte d'entrée mais à sa grande surprise, la maison est encore habitée. La femme qui répond derrière l'avertit qu'il vaudrait mieux qu'il parte. Sam, en joug d'un fusil, coopère et repart à sa voiture. C'est alors que Dean entre à son tour dans la voiture. Dean a trouvé l'adresse sur le papier que Sam a laissé derrière lui dans le bunker. Il sait également pour le suicide de toute une famille dans cette maison en 1973, la seule survivante étant la fille qui habite toujours dans la maison. Dean pense que Sam a voulu lui donner une leçon en s'occupant seul de cette affaire, après la chasse aux vampires qu'il s'est fait en solo, mais il pense aussi que le cas n'a pas l'air d'être mystérieux. Sam ne pouvant lui dire la vérité, il décide de lui expliquer que la maison était un endroit appartenant aux Men of Letters et où Sinclair a caché un coffre-fort nommé Werther, coffre ensorcelé et protégé par un système de sécurité magique et mortel. Sam prétend que c'est de leur responsibilité de détruire le système magique du coffre, avant qu'il ne fasse d'autres victimes. Dean décide alors de s'impliquer dans cette affaire.

Tandis que Dean joue les voisins concernés par un cambrioleur auprès de Susie, la propriétaire de la maison et seule rescapée du massacre de 1973, Sam entre en toute discrétion par la cuisine. Tandis qu'il parvient à descendre au sous-sol, Dean apprend que Susie, après la mort de sa famille a été élevée par sa tante jusqu'en 1980. C'est à cette date que sa tante est, elle aussi, descendue au sous-sol, et a été tuée par le coffre. Après avoir entendu du bruit venant du sous-sol, Susie comprend que Dean a fait diversion et que Sam et lui sont là pour le coffre. Elle ordonne à Dean de rappeler Sam en haut. Ce dernier ne parvient pas à exécuter le sortilège donné par Rowena, mais tente d'ouvrir le coffre avant de remonter. C'est là que la fumée jaunâtre s'échappe de nouveau et vient s'immiscer en Dean et en Susie. Sam remonte, pour trouver Susie paniquée. Elle se met alors à voir les membres de sa famille, morts les uns après les autres, qui l'accusent d'avoir provoqué leur mort. Dean commence aussi à avoir des visions.

Sam tente d'aider Susie, mais il est trop tard. Harcelée par les fantômes de son passé, elle se met une balle dans la tête. Soudain, Susie revient pour harceler Sam. Elle le blâme pour sa mort et pour tous les décès liés à sa recherche d'une cure pour Dean. Sam tente de se convaincre que ce n'est pas réel, mais Susie ne le lâche pas. C'est alors que Rowena apparait et fait disparaitre la vision de Sam. Pendant ce temps, Dean se retrouve au Purgatoire.

Sam craint que Dean ne voit Rowena. Mais lorsqu'il retrouve son frère dans le salon, il se rend compte que celui-ci est absent, possédé par ses visions. Rowena confirme cette théorie et le fait que Dean ne soit pas en mesure de la voir. Elle explique à Sam qu'il doit détruire le sortilège à sa source pour pouvoir réveiller son frère. Sam craint que Dean ne soit poussé au suicide, comme toutes les autres victimes avant lui, et ne veut pas le laisser seul dans cet état. Rowena propose alors de l'attacher.

Au Purgatoire, Dean est attaqué par un léviathan et secouru par Benny. Tandis que Dean tente de trouver un moyen de revenir à la réalité, il est suivi par Benny qui tente de le convaincre qu'il n'est pas en train d'halluciner. Mais si c'est vraiment une illusion de son subconscient, il n'y a pas trente-six moyens d'en sortir. Attaché à sa chaise, Dean sert les poings et tente inconsciemment de se défaire de ses liens.

Pendant ce temps, Sam emmène Rowena au sous-sol afin de lui montrer le coffre. La sorcière se montre impressionnée par le sortilège qui entoure la boîte. A l'aide d'une formule, elle révèle les inscriptions gravées sur le coffre.

Dean ne cesse de tourner en rond. Il demande de l'aide à Benny, mais ce dernier tente de lui faire comprendre que ce n'est pas un hasard si Dean se retrouve au Purgatoire ; c'est son havre de paix, l'endroit où il veut être.

Rowena et Sam déchiffrent les inscriptions sur le coffre. Il est dit que seul le sang des Men of Letters peut ouvrir le coffre. Sam comprend qu'il va devoir donner du sien.

Benny tente toujours Dean avec son envie de rester au Purgatoire. Mais Dean refuse toujours, il veut revenir à la réalité. C'est alors que Benny lui dit qu'il y a un autre moyen ; il peut se tuer, ainsi, il ne prendra pas le risque de faire du mal à qui que ce soit et surtout pas à Castiel et à son frère, il ne prendra pas non plus le risque de laisser la besogne de le tuer à sa famille. Cela les briserait. Dean se laisse convaincre. Dans la réalité, il se défait de ses liens, attrape une bouteille et en brise le goulot.

Tandis que Sam, sous l'influence de Rowena et du coffre, se laisse se vider de son sang, Dean combat ses visions. Il est vrai qu'il a pensé à se suicider, mais il sait que la marque ne le laissera pas faire. Il tue Benny, faisant disparaitre sa vision et le projetant dans la réalité. Il se précipite au sous-sol et pousse Sammy qui ne veut pas abandonner l'ouverture du coffre. Dean s'entaille le bras à son tour et le coffre finit par s'ouvrir. Rowena, qui n'était qu'une vision, disparait. Dean prend le codex dans le coffre, puis le referme.

Dean s'est débarrassé du coffre pour être sûr, même si le coffre n'est plus protégé par un sortilège. Il s'assure que Sam va bien, puis s'excuse d'être parti seul en chasse des vampires. Sam dit qu'il n'est pas la peine qu'il s'excuse, ils sont à égalité. Dean déclare alors qu'il y a là une leçon importante pour eux qu'ils auraient dû retenir depuis longtemps ; ils sont plus forts ensemble que seuls. Dean se demande ensuite ce que peut être le livre que le coffre contenait, pour qu'il soit protégé aussi efficacement. Sam prétend qu'il n'en sait rien.

Sam donne rendez-vous à Rowena dans une brasserie désaffectée. Elle est très heureuse d'avoir le codex entre les mains. Mais Sam n'est pas dupe. Plutôt que de lui laisser une chance de le tromper, il l'enchaine et lui demande de se mettre au travail, maintenant qu'elle a le matériel nécessaire. Il promet de tuer Crowley, comme c'est prévu. Tandis qu'il part, Rowena enrage.
Ecrit par deanlove35.