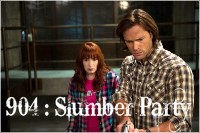 1935 - Au bunker
Deux hommes de lettres James Haggerty et Peter Jenkins s'installent en effectuant un protocole minutieux. Si James n'est pas très excité, Paul le plus jeune semble tout heureux de la mission qu'on lui a confié. Six mois plus tard, rien de bien folichon ne s'est passé, et Paul se retrouve alors autant déconfit que James. Mais quand un jeune chasseur débarque, l'aventure qu'attendait si impatiemment Paul commence. Il s'agit de Dorothy, la fille d'un certain Frank, qui aurait fait pour elle, quelque chose qui sort de l'ordinaire. Elle apporte avec elle une méchante sorcière, et elle a besoin d'eux pour la tuer.
SUPERNATURAL
De nos jours
Sam rend une petite visite à Crowley, ils veulent encore et toujours des noms, mais Crowley lui veut une chambre avec vue, Sam sourit et s'en va. Le roi des enfers tente de négocier au moins une petite balade pour dégourdir ces jambes, mais il n'obtient que l'extinctions des feux.
Les Winchester ont décidés de s'accorder une pause à eux et à Kevin, le jeune homme est à Branson dans une sympathique chambre d'hôtel, quand à eux, Dean a décidé de prendre la saison 1 de Game of Thrones, ainsi que quelques plats à emporter. Mais Sam veut d'abord qu'ils trouvent un moyen d'aider Cas, d'ailleurs il ne comprend toujours pas pourquoi leur ami est parti du bunker, surtout avec la bande à Bart qui veut sa peau. Dean lui fait croire que c'est parce qu'il avait peur de leur causer des ennuis, et lui dit qu'il est toute ouïe pour aider leur ami. Sam explique à Dean qu'il a fouillé un peu dans le bunker pour trouver des indications sur les tableaux de contrôle, peut être qu'ils réussiront un moyen de détecter les anges dessus. Il a suivi les câbles et à découvert encore une fois, une pièce secrète.
Ils tentent de découvrir avec quoi le gros ordinateur des années 50 est branché dans cette pièce, et quand Dean réussit à ouvrir la boite, il bouscule une étagère, et fait tomber par inadvertance une fiole, sans s'en apercevoir. En voyant l'intérieur de l'ordinateur, les deux frères comprennent qu'ils vont avoir besoin d'aide. Dean sait très bien à qui demander cette aide. En sortant de la pièce, le liquide contenu dans la fiole finit par s'échapper et se répand de partout sur le mur.
1935
Dorothy qui a coupée la langue à la méchante sorcière d'Oz, demande de l'aide à Paul et James pour la tuer, en effet elle a déjà tout tenté de son coté, mais en vain. Les deux hommes de lettres vont alors tout faire pour l'aider.
De nos jours
Sam est allé chercher leur invité d'honneur Charlie. La jeune femme est ravie de revoir ces bitches favorites, elle leur avoue qu'elle s'est fait virer de son nouveau job, et qu'elle a désormais plus de temps pour ces passe temps, comme les jeux de rôles ou la chasse. Ce qui n'enchante guère Dean, mais elle a été prudente, et n'a eux que deux affaires minimes.
Quand elle rencontre l'ordinateur, elle est sous le charme, c'est une pièce digne d'un musée. Même si ce ne va pas être de tout repos, Charlie va s'en charger. Au bout de quelques heures, elle réussit à y rentrer, et elle va pouvoir télécharger les documents des hommes de lettres, les Winchester sont impressionnés, mais Dean fait signe à Sam. C'est alors que le cadet des frères fait la morale à Charlie au sujet de la chasse. Charlie avoue qu'ils ont raison, et même d'après Carver Edlund, elle n'aurait pas dû. Sam aimerait vraiment qu'elle supprime tout ces livres du net. Mais elle leur avoue qu'une certaine Becky Winchester les protège. Dean lance un regard réprobateur à son frère, alors que Sam feint de ne pas connaitre cette personne. Charlie annonce aux boys, que le téléchargement va prendre du temps, et qu'ils ont donc une soirée à tuer. Sam à une excellente idée.
Les trois amis passent donc la soirée devant Game of Thrones, à la fin, Charlie leur demande si ils comptent s'installer correctement pour de bon. Si pour Dean l'aménagement s'est déjà fait, pour Sam ça coince, ce que Dean ne comprend pas. Il s'en va alors chercher des bières. Sam tente d'en savoir plus sur Charlie et la chasse, la jeune femme cherche en faites plus de magie, alors que pour Sam et Dean c'est tout le contraire. Il tente de lui faire comprendre que la magie ça craint, mais elle refuse de l'écouter.
1935
La méchante sorcière réussit à se libérer de ces liens, et par la même occasion à contaminer Jenkins, elle s'enfuit et Dorothy demande à James si il y'a un labo quelque part (et il s'agit de la pièce où Dean et Sam ont trouvés l'ordinateur) elle s'y rend en attirant la sorcière avec elle. James lui est attaqué par Paul, et n'a pas le choix que de le tuer. Il tente de se poursuivre Dorothy dans le labo et aperçoit une lumière blanche. En ouvrant la porte …
De nos jours
Dean, Charlie et Sam entre dans la fameuse pièce, et comme le liquide s'est répandu de partout, une sorte de trou géant avec comme des toiles d'araignées autour s'est formé dans le mur. Dean découpe autour avec son couteau, et le corps de Dorothy tombe. Charlie est toute excitée, ils découvrent que la première enquête impliquant des chasseurs avec des hommes de lettres était celle de Dorothy. Elle s'est enfermée dans cette pièce avec la méchante sorcière et n'est jamais ressortie. Sam tente d'en savoir plus en questionnant Dorothy. Cette dernière reste abasourdie en apprenant que ça fait 75 ans qu'elle est restée coincée, et que le monde a beaucoup changé. Elle leur explique le sort qu'elle a pratiqué pour coincé la sorcière, puisqu'elle n'arrivait pas à la tuer. Le problème c'est qu'elle a liée son âme avec la sienne, et si elle est réveillée, c'est que la sorcière aussi.
La méchante sorcière se retrouve ainsi vers Crowley, ce dernier est ravi de la rencontrer, et lui avoue être fan. Mais ils ont du mal à communiquer étant donner qu'elle n'a plus de langue. Il lui donne donc du papier et un crayon.
Sam et Dean doivent découvrir ce que recherche la sorcière, ils vont aller à sa recherche, pendant que Charlie fera des recherches sur le net. Dorothy reste auprès d'elle, Charlie lui avoue qu'elle est une grande fan des livres, mais le chasseur elle n'est pas d'accord, elle a horreur de tout ces bouquins, et pense que l'auteur était juste triste et a voulu embellir l'histoire d'un père et sa fille. Car oui Frank Baum était son père. Mais face à Charlie, Dorothy n'a pas le choix d'écouter, surtout que si elle prenait le temps, elle apprendrait que Haggerty n'a pas chômer après sa disparition, au contraire, il a même trouver un moyen de blesser la sorcière, avec des coquelicots. Elles vont donc faire des balles avec des coquelicots.
Dean et Sam recherchent la sorcière et vont finalement vers Crowley, ce dernier leur avoue qu'il l'a vu et qu'il sait ce qu'elle cherche, mais pour savoir ce qu'elle veut, il faudra qu'il puisse se dégourdir un peu les jambes. Les Winchester sont obligés d'accepter, mais ne sont pas aussi dupes qu'il ne le croit. Ils apprennent vite que c'est une clé que la méchante sorcière recherche. Elle est partie du coté de la cuisine.
Elle a foutu un bordel pas possible de ce coté là, mais toujours aucunes traces d'elle, les boys retrouvent ensuite Charlie et Dorothy, et apprennent pour les balles coquelicots. Sam leur dit aussi pour la clé, et Dorothy avoue que cette clé est le portail pour entrer dans Oz, si la méchante sorcière s'approprie cette clé, c'est la fin du monde d'Oz. Quand Dean voit à quoi ressemble la clé, il sait pertinemment où elle est, en effet il l'avait déjà vu auparavant quand il avait fait l'inventaire, et cette clé est désormais dans sa chambre.
Sam et Dorothy partent d'un coté, et alors que Dean tente de mettre en sécurité son amie Charlie, cette dernière refuse, elle est tout simplement surexcité par cette quête magique.
Sam et Dorothy discutent un peu et découvrent qu'ils ont des points en communs, notamment qu'ils ont du mal à avoir une maison, et que la route est pour eux plus une maison. La sorcière les interrompt alors, mais Dorothy réussit à la blesser, mais elle finit par s'évaporer par les bouches d'aérations, ils décident de se séparer pour couvrir plus de terrain.
Dans la chambre de Dean, les deux amis recherchent la fameuse clé, il réussit enfin à mettre la main dessus, mais la sorcière arrive par surprise et récupère la clé, elle fait un sale coup à Dean, et alors qu'il est à terre, elle prépare une plus grosse attaque contre lui. Charlie se sacrifie pour son ami, et recoit l'attaque à sa place, elle est tué sur le coup. Dean réussit à blesser la sorcière, mais elle s'évapore de nouveau. Il tente de réveiller son amie, mais il est déjà trop tard. Sam arrive à la rescousse, mais Dean demande de l'aide à Zeke. L'ange lui explique qu'il ne peut pas continuer à agir ainsi, il est encore faible, et chaque fois qu'il agit de la sorte, il s'affaiblit encore plus, et va devoir rester encore plus à l'intérieur de Sam, ce que normalement ils ne veulent pas tout les deux. Il lui explique qu'il peut aider soit aider avec la sorcière, soit sauver Charlie. Dean lui demande de sauver Charlie. Zeke obéit, et ressuscite la jeune femme. Zeke tombe directement dans les vapes, et la seule personne se souvenant de ce qui s'est passé est Dean. Il ment de nouveau à son frère quand il reprend connaissance, et à Charlie aussi. Les deux chasseurs se relancent à la poursuite de la sorcière qui est blessée, pendant que Dorothy aide Charlie à se remettre sur pied.
Alors que Sam et Dean avancent dans les couloirs, Sam demande à Dean qui est Zeke, il a entendu ce nom quand il arrivait dans la chambre de son frère. Dean fait mine de ne pas comprendre, et prétend que Sam doit encore être dans les vapes. Mais on peut voir à son visage, qu'il se sent vraiment mal.
Charlie avoue à Dorothy qu'elle a fait un étrange rêve quand elle était dans les vapes, mais pour le chasseur, ce n'était pas un rêve, mais la mort. Charlie ne comprend pas, mais Dorothy l'a déjà vécue dans Oz, et elle sait de quoi elle parle. Charlie ne le savait pas, surtout que ce n'était pas mentionné dans les livres, mais parfois la vie réelle est plus sombre que dans la fiction.
Dean et Sam sont toujours à la recherche de la méchante sorcière, Dean demande alors à son frère pourquoi il ne veut pas emménagé correctement dans le bunker. Sam lui explique qu'il ne sait même pas ce que c'est d'avoir une vrai maison, il n'a jamais vraiment connu le bonheur d'un foyer avec son père et sa mère, il n'a aucuns souvenirs, et à chaque fois qu'il a tenté de construire quelque chose, ça s'est toujours mal terminé. Mais Dean n'est pas d'accord, le bunker ressemble vraiment le plus à une maison, et si il peut construire quelque chose c'est ici et maintenant et avec son grand frère. Sam reste songeur face à l'annonce de son frère.
Charlie de son coté, tente de réconciliée Dorothy avec les livres de son père, et elle lui donne alors une idée de génie. Elle lui demande de l'accompagner dans le garage, Charlie est stupéfié d'apprendre qu'il y'a un garage ici.
De leurs coté, les Winchester sont attaqués par la sorcière, et elle réussit à les contaminer.
Les filles elles vont au garage, Dorothy retrouve sa moto, et ces chaussures rouges à talons, qui ont encore la magie d'Oz, elles pourront les aider à tuer la sorcière.
Mais les boys arrivent et comme ils sont posséder, ils sont là pour les tuer. Charlie tente de les aider, mais ils n'écoutent rien. La sorcière elle, commence son sort pour ouvrir la porte d'Oz, et commencer la destruction de ce merveilleux monde. Dorothy de son coté réussit une parade pour permettre à Charlie d'aller tuer la sorcière. Elle se bat avec les boys, pendant que la sorcière tente de faire rentrer ces armées d'Oz dans le bunker, mais Charlie arrive par surprise et réussit à la tuer, libérant ainsi les Winchester. Elle referme ainsi la porte, et sauve tout le monde.
Sam renferme ensuite Crowley, et lui redonne du papier et un crayon.
De retour au garage où baby à trouver un endroit de rêve pour se reposer. Sam lui offre un livre d'Oz à Dorothy, cette dernière lui dit qu'il ne sait pas à quel point c'est bizarre d'avoir une série de livre écrit sur sa propre personne. Sam rit et lui explique que en réalité il sait très bien à quel point c'est étrange, mais que au bout du compte, c'est leur histoire, donc faut bien que ce soit écrit.
Charlie de son coté attrape Dean, et lui demande si elle est devenue un zombie, il l'a rassure, et lui demande d'être discrète la dessus, elle accepte car il lui a sauvé la vie, mais il aura intérêt de lui en dire plus.
Dorothy les remercie, et doit retourner à Oz, elle demande alors à Charlie de l'accompagner, la jeune femme accepte avec grand plaisir. Si Dean n'est pas très ravi, Sam lui est enchanté pour elle, et lui dit que si elle a besoin de quoique ce soit qu'elle n'hésite pas.
Dorothy ouvre alors la porte, et les deux femmes s'en vont dans le monde magique de Oz sous les yeux ébahis des Winchester. La porte se referme, et quand Dean et Sam la rouvre, il n'y a plus rien.
Dean demande à Sam si elle va revenir, Sam lui le confirme, car pour lui, rien ne vaut la maison. Dean regarde son petit frère et semble ravi de sa réponse …
Écrit par Bibou.